2003 Short Course Nationals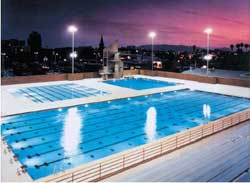 Mona Plummer Aquatic Complex
Arizona State University, Tempe May 15-18, 2003
Sun Devil Masters and Arizona State University are proud to host the 2003 Short Course National Championships. Please read all information carefully and refer to the checklist on the entry form to avoid misunderstandings or problems regarding the conduct of the meet. All times listed are Pacific Daylight Time (PDT).
Meet Results
Final results from the meet are now available. The individual results are available by event, by age group, and in a searchable database. Relay results are available for men's relays, women's relays, and mixed relays. Also available are the team results and USMS record breaking performances.
Daily Heat Sheets
PDF files are available for Friday's, Saturday's, and Sunday's heat sheets.
Meet Roster and Psych Sheets
There are 1,917 swimmers entered in the meet. The meet roster, psych sheets, and a swimmer lookup feature are available for swimmers to verify their entry information.
Event Check-In
This is a deck seeded meet. Check-in is required for ALL events and may be done in person in the lobby of the Aquatic Center or via the on line check-in system. Coaches or teammates may check in for those swimmers whose travel plans do not permit check-in by the deadlines. Failure to check-in will result in the swimmer being scratched from the event. Details on check-in deadlines and procedures can be found here
Estimated Timeline Available
An estimated timeline for the meet is available in PDF format. Please be aware that this is only an estimate based upon historical rates of scratches and that the actual meet timeline will differ. It is the responsibility of all entrants to get to the pool well before their events. The meet will not be held up to follow the timeline if we get ahead of schedule.
Meet Information
The complete meet information document and entry form can be found here in Adobe Acrobat (PDF) format (741 KB). This is identical to the version that appears in the January issue of Swim Magazine. To download Adobe Acrobat Reader, Click Here. (it's Free)
Web-viewable versions of the meet information are also available here.