2007 Long Course Nationals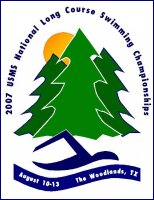 The Woodlands Athletic Club
The Woodlands, Texas, August 10-13, 2007
Final Meet Results
Final results from the meet are now available. The individual results are available by event, by age group, and in a searchable database. Relay results are available for men's relays, women's relays, and mixed relays. Also available are the team results and USMS and World record breaking performances. The results are also available in a downloadable zip file containing a text file per LMSC for LMSC's and clubs to use for newsletters.
Meet Roster, Heat/Psych Sheets and Estimated Timeline
The meet roster, heat/psych sheets for individual events, a swimmer lookup feature and an estimated timeline for the meet are now available. Heat sheets for the deck seeded events (the 400 IM and the 400, 800 and 1500 Freestyle) will be available on the pool deck and here the day of those events. The decision has been made to NOT remove the sixth event for swimmers who entered six events.
Meet Information
The complete meet information is available in a web-viewable version. This includes information provided in the May issue meet preview (PDF file*) in USMS SWIMMER magazine plus additional meet details.
* Adobe Acrobat Reader can be downloaded for free in order to read and print PDF files.