Live Stream of the 2017 Nationwide USMS Spring National Championship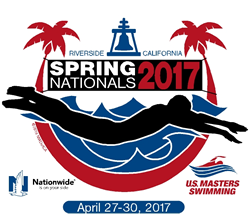 2017 Nationwide USMS Spring National Championship
Riverside, California
April 27 - 30, 2017
Follow along with the streams below and by using the real-time results and the estimated timeline (PDF).
Odd heats - (Lane 1 closest to camera, Lane 9 at top)
Sunday's Day 4 streams contain some AC/DC song(s) played during warmup,
which they block completely, rather than only monetize as other artists do.
We apologize for the inconvenience and are searching for a work-around.
Even heats - (Lane 1 closest to camera, Lane 9 at top)
Streams From Other Days of the Meet
Day 1 (Thursday)
Even heats
Odd heats
Day 2 (Friday)
Even heats
Odd heats
Day 3 (Saturday)
Even heats
Odd heats