2011 Spring Nationals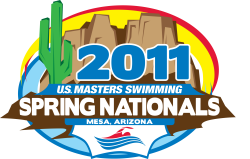 Kino Jr. High Aquatics Complex
Mesa, AZ
April 28 - May 1, 2011
Final Results
Final results from the meet are availalbe by age group, by event, in our searchable database and in a zip archive containing a text file for each LMSC (useful for adding results to your newsletters). The final team scores are also available for the men's, women's and combined categories.
Daily Video Recaps
A daily video recap from the pool deck is available from this meet.
New USMS Records
There were 40 individual and 10 relay record-breaking swims at the meet. A summary of all new records can be found here.