2008 Short Course Nationals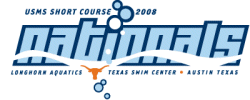 Lee and Joe Jamail Texas Swimming Center
Austin, TX, May 1-4, 2008
Final Results
Final results for the meet are available by age group, by event in the real time results area, and in our searchable meet results database. In addition, a zip archive containing a separate text file with results for each LMSC is available for the convenience of LMSC and club newsletter editors.
Webcasts of Events and Interviews
Webcasts of events from nationals and interviews of a number of participants are available from Floswimming.com
Heat and Psych Sheets, Distance Event Check-in
The heat and psych sheets as published in the meet program are available for all events. Heat sheets for the deck-seeded events will be available at the pool on the day of the event. All deck-seeded events require positive check-in either via the online check-in system or at the pool registration desk. Event Check-in details and deadlines can be found here
Estimated Time Line
An estimated time line is now available for the meet. The time line is provided as a courtesy to all swimmers. It was created using average historical scratch rates, which vary from year to year. Only use this time line as a guide to determining when events might begin. It is the responsibility of all entrants to get to the pool well before their events. The meet will not be held up to follow the time line if we get ahead of schedule.
Sixth Event
Swimmers who have entered six events for this meet WILL be allowed to swim all six events. The decision has been made to NOT drop the sixth event from the meet.
Meet Roster
There are 1,865 swimmers entered in the meet. The meet roster, team rosters and swimmer lookup are available for the meet.
Meet Information
The complete meet information is available in a web-viewable version. This includes information provided in the January issue meet preview (PDF file*) in USMS SWIMMER magazine plus additional meet details.
* Adobe Acrobat Reader can be downloaded for free in order to read and print PDF files.