2007 Short Course Nationals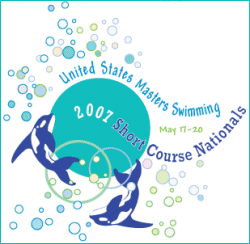 Weyerhaeuser King County Aquatic Center
Federal Way Washington, May 17-20, 2007
Final Meet Results
Final results from the meet are now available. The individual results are available by event, by age group, and in a searchable database. Relay results are available for men's relays, women's relays, and mixed relays. Also available are the team results and USMS record breaking performances.
Meet Roster and Heat/Psych Sheets
The meet roster, team roster and heat/psych sheets are now available. Psych sheets are available for all individual events, and heat/lane assignments are available for all pre-seeded individual events (those 200 yards or less).
Meet Information
The complete meet information is now available in a web-viewable version. This includes information provided in the January issue meet preview (PDF file*) in USMS SWIMMER magazine plus additional meet details.
* Adobe Acrobat Reader can be downloaded for free in order to read and print PDF files.
---