2006 Short Course Nationals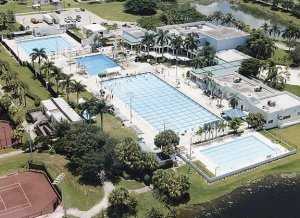 The City of Coral Springs Aquatic Complex
Coral Springs, Florida, May 11-14, 2006
Coral Springs Masters welcomes you to the City of Coral Springs Aquatic Complex. The Aquatic Complex opened in 1989 and is a leading swimming and diving facility. It is home to the Coral Springs Masters Team, the Coral Springs Swim Club and is a training facility for international Olympic athletes. For the USMS championships, swimmers will make a big splash in the main competition pool (50 meers by 25 yards), which is regulated by a geothermal heating and cooling system. The Aquatic Complex includes a springboard/platform diving well and an acclimation pool (25 yards by 50 feet), as well as a 25 meter by 25 yard pool and a 36 foot by 65 foot teaching pool.
Final Meet Results
Final results from the meet are now available. The individual results are available by event, by age group, and in a searchable database. Relay results are available for men's relays, women's relays, and mixed relays. Also available are the team results and USMS record breaking performances.
Distance Event Check-in
Swimmers entered in the 500, 1000 or 1650 freestyle or the 400 IM need to check in for these events. Swimmers can check in for these events at the pool or on line. To check in for events on line, visit the event check-in page.
Estimated Timeline
An estimated timeline for the meet is now available. Swimmers are reminded that this is only an estimate and the meet will not be held up to match the estimate if the meeet is running faster than expected. Swimmers are responsible for arriving at the starting blocks in time for their events.
Heat Sheets for Pre-Seeded Events
Heat sheets are now available for all pre-seeded events for Friday, Saturday and Sunday. Heat sheets for deck-seeded events will be made available during the meet after the events have been seeded.
Meet Roster and Psych Sheets
The meet roster and event psych sheets are now available. There are 1,271 swimmers entered in the meet representing 157 teams. Swimmers who have entered six events for this meet will be permitted to swim in all six of their events (the sixth event will NOT be dropped). To verify your entry, visit the swimmer lookup page.