2005 Long Course Nationals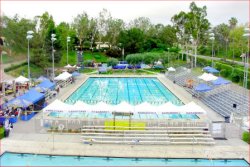 Marguerite Aquatic Center
Mission Viejo, California, August 11-15, 2005
Mission Viejo Nadadores Masters welcomes you to beautiful Mission Viejo. Situated in southern Orange County midway between Los Angeles and San Diego and just eight miles from the Pacific Ocean and many scenic beaches. Enjoy your stay and plan to see the many attractions that Orange County offers. Please read the following information carefully and refer to the checklist on the entry form to avoid misunderstandings or problems regarding the conduct of the meet. All times listed are Pacific Daylight Savings Time (PDT).
Final Results
Congratulations to the meet organizers, volunteers, and all participants for a fine championship meet. The final results are now available for each age group, as well as men's, women's, and mixed relay results.
The final team scores are also available. Congratulations to all participating teams, and especially to those teams that placed in the top ten overall.
A zip file containing a text file summary of each LMSC's results is also available for the convenience of LMSC newsletter editors and records recorders.
Daily Results and Heat Sheets
During the meet, Heat sheets will be available each night for the next day's events. Meet results will be available in three areas. Real time results will be available on a heat-by-heat and event-by-event basis as the meet progresses. Results will also be available by age group and in our searchable database each evening after all events have been completed.
Estimated Timeline and Event Check-In
An estimated event timeline for the meet is now available. Swimmers entered in the 400 IM or the 400, 800, or 1500 Freestyle will need to positively check in for these events at the meet venue or via the on line check-in system.
Meet Roster and Psych Sheets
The meet roster and psych sheets are now available for the meet. There are 1,108 swimmers entered in the meet from 153 teams.
Seeding and Sixth Event
The championship committee has decided NOT to drop the sixth event from this meet. All swimmers who entered six events may swim all of their events.
In order to provide a reasonable timeline for the meet, men and women will swim together, seeded slowest to fastest regardless of age group for the 400, 800, and 1500 freestyle events. Men and women will swim separately (men's heats first) for all other events. The 400 IM will be seeded slowest to fastest regardless of age group within each gender. An estimated timeline will be posted by Monday, August 1.
Meet Information
The complete meet information document and entry form can be found here in Adobe Acrobat (PDF) format (663 KB). This is identical to the version that appears in the May issue of USMS SWIMMER. To download Adobe Acrobat Reader, Click Here. (it's Free)
The complete meet information from USMS SWIMMER plus additional meet details are also available in a web-viewable version here.