2003 Long Course Nationals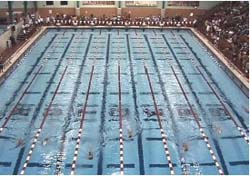 Sonny Werblin Recreation Center
Rutgers University, Piscataway, New Jersey August 13-17, 2003
Rutgers Aquatics and Rutgers University are proud to host the 2003 Long Course National Championships. Please read all information carefully and refer to the checklist on the entry form to avoid misunderstandings or problems regarding the conduct of the meet. All times listed are Eastern Daylight Savings Time (EDT).
Meet Results
Final results from the meet are now available. The individual results are available by event or by age group. Relay results are available for men's relays, women's relays, and mixed relays. Also available are the team results and USMS and World record breaking performances.
Daily Heat Sheets
PDF files are available for Wednesday's, Thursday's, Friday's, Saturday's, and Sunday's heat sheets.
Event Check-In
This is a deck seeded meet. All swimmers must check in for each event they plan to swim. For Thursday through Sunday's events, you must check in the day before your event between 7 AM to 6 PM. For the 1500 freestyle on Wednesday, you must check in between noon and 8 PM on Tuesday or on Wednesday morning before 6 AM. We are once again offering the ability to check in for your events on line.
Meet Time Line
The estimated time line for the meet can now be found here. Please note that this is only an estimate and that the meet will not be held up to conform with this estimate. Swimmers are responsible for reporting to their assigned heat and lane on time.
Meet Roster and Psych Sheets
There are 871 swimmers entered in this meet. The meet roster can be found here. All swimmers who have entered six events for this meet will be allowed to swim all of their events (the sixth event will not be dropped).
The psych sheets are also available, and a swimmer lookup feature is available to verify your own event entries.
Directions and Construction Update
A road construction project in the area of the pool may cause swimmers to use detours to get to the facility. We've updated the map to the pool to show the latest information.
Meet Information
The complete meet information document and entry form can be found here in Adobe Acrobat (PDF) format (1 MB). This is identical to the version that appears in the May issue of Swim Magazine. To download Adobe Acrobat Reader, Click Here. (it's Free)
Web-viewable versions of the meet information are also available here.