2002 Long Course Nationals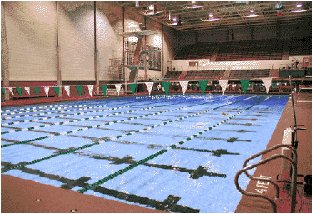 Robert F. Busbey Natatorium
Cleveland State University August 15-18, 2002
O*H*I*O Masters is proud to host the 2002 Long Course National Championships. This local club was organized in 1974 which makes it one of the oldest Masters Swimming clubs in the United States. It is the largest Masters swim club in the Lake Erie LMSC with over 260 members from northeastern Ohio and beyond. O*H*I*O Masters members believe, Ohio is the state we live in, but O*H*I*O stands for Old * Hearts * Inspiring * Others. Please read the information here carefully and refer to the checklist on the entry form to avoid misunderstandings or problems regarding the conduct of the meet. All times listed are Eastern Daylight Savings Time.
Meet Results
Complete results from the meet are now available in several formats. Individual results are provided for each age group, each event, and in a searchable database. Final team standings are available in each of the team size categories for men, women, and combined categories. A zip file containing one plain text file with swimmer results for each LMSC is also available for LMSC newsletter editors to use.
Records
There were 60 individual and 6 relay USMS and/or FINA world record-breaking swims at this meet. The complete list of record performances is provided here.
Meet Roster and Psych Sheets
The meet roster and psych sheets are still available for swimmers to reference.
Meet Information
The complete meet information document and entry form can be found here in Adobe Acrobat (PDF) format. This is identical to the version that appears in the May issue of Swim Magazine. To download Adobe Acrobat Reader, Click Here. (it's Free)