2001 Long Course Nationals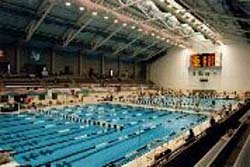 Weyerhaeuser King County Aquatic Center
Federal Way, Washington August 16-19, 2001
The Pacific Northwest Association of Masters Swimmers is proud to host the 2001 United States Masters Swimming Long Course National Championships. We anticipate that your visit to the Pacific Northwest will be pleasurable and that your swimming will reflect the world-class quality of the Weyerhaeuser King County Aquatic Center. Participants are asked to read the meet information carefully and refer to the checklist on the entry form to avoid any problems or misunderstandings regarding the conduct of this meet. All times listed are Pacific Daylight Time.
Meet Results
Complete results from the meet are now available in several formats. Individual results are provided for each age group, each event, and in a searchable database. Final team standings are available in each of the team size categories for men, women, and combined teams. A zip file containing one plain text file with swimmer results for each LMSC is also available for LMSC newsletter editors to use.
Records
There were 73 world record-breaking swims recorded at this meet and 94 USMS record-breaking swims. The complete list of record performances is provided here.
Meet Roster and Psych Sheets
There are 954 swimmers entered in the meet this year. Swimmers who have entered six events will be permitted to swim all six of their events. The psych sheets are now available for review. An alphabetical athlete roster and team roster are also available for review (in PDF format).
Meet Information
The complete meet information document and entry form can be found here in Adobe Acrobat (PDF) format. This is identical to the version that appears in the January issue of Swim Magazine. To download Adobe Acrobat Reader, Click Here.