2001 USMS National Elections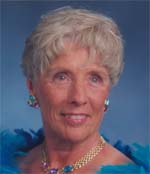 Joan Alexander
Candidate for Secretary
Why are you interested in being USMS Secretary and why do you believe you would be a good candidate for this position.

I am interested in running for the USMS office of Secretary. I will have completed most of my current obligations, and will be free to devote much time to the demands of the office. I enjoy working with people and trying to help them resolve problems and consider a variety of solutions as seen through many scenarios. I feel that I am qualified to hold this position because of my background in Pacific LMSC. I have completed one 2-year term and am currently serving my second term. I have been active in our LMSC since 1995, and have attended all conventions since 1996.
What do you consider to be the major issues facing USMS in the next four (4) years. As the USMS Secretary, how would you address these issues.

Although we are growing at a steady rate, I feel the major issues facing USMS in the next four years are retention of the current membership, and the need to help small clubs and LMSCs grow. This entails finding pools and pool-time for them and I think this can be done through a community education program. I did talk to several people at convention last year who were having this problem and I believe it needs to be addressed.
Please list USMS committees that you have served on.
Planning Committee, 1997-present
Marketing Committee, 1997-present
Please list any other experience that relates to your qualifications for office.

Other qualifications and experience are: I have served as President and Vice President of Ridgeview Homeowners Association (219 units) for 5 years; President of the Pleasant Hill District Arts Commission, (a 3 year term); Secretary of Las Juntas Artists for 2 years and Walnut Creek Masters for 4 years. I do understand the procedures of how a meeting should be run, the decision making process, and a willingness to listen to any point of view. I love working with people and feel that I have something to offer USMS.