USMS Swimming Saves Lives Foundation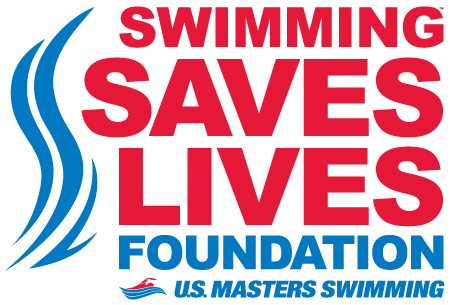 There are more than 18 million swimming pools and hot tubs in the USA. Yet, according to the Centers for Disease Control, 37% of American adults cannot swim the length of a pool. Every day, about 10 people die from drowning. The majority of unintentional drowning victims are adults. Drowning ranks fifth among the leading causes of unintentional injury death in the United States. The CDC identifies a variety of factors that can influence drowning risk, including the lack of swimming ability. Research also shows that the children of adults who don't know how to swim are at a greater risk of not learning to swim, which increases their risk of drowning.
In 2010, U.S. Masters Swimming established the Swimming Saves Lives Foundation as its charitable arm. The purpose of SSLF is to advocate and raise awareness, and to serve as a resource for programs providing adult learn-to-swim lessons. We solicit charitable contributions and provide grants to SSLF program providers.
Our hope is that once an adult learns to swim or improves their swimming skills, they will have the confidence and desire to continue swimming in a Masters Swimming program and experience the lifelong benefits of swimming.
Through the generous contributions of USMS members and other supporters, SSLF has awarded more than $65,000 in grants to programs that are providing adult learn-to-swim opportunities. Programs that have received grant resources include:
Blue Wave Aquatics, Federal Way, Wash.
Chatham County Aquatic Center, Savannah, Ga.
Fort Worth Drowning Prevention Coalition, Fort Worth, Texas
Friends of the Pool, Islamorada, Fla.
YMCA of Greater Kansas City, Kansas City, Kan.
Richmond Swims, Richmond, Calif.
Sarasota Tsunami Masters, Sarasota, Fla.
Simon's Rock PaceMakers Masters, Great Barrington, Mass.
Upper Valley Aquatic Center, White River Junction, Vt.
Walnut Creek Masters, Walnut Creek, Calif.
Cannon Memorial YMCA, Kannapolis, N.C.
YMCA Central Virginia, Lynchburg, Va.
The Advancement Foundation, Vinton, Va.
Swim With Heart, Santa Monica, Calif.
21st Century Swimming, Sarasota, Fla.
Stowe Masters, Stowe, Vt.
Martha's Vineyard Masters, Vineyard Haven, Ma.
Pittsfield Polar Bear Masters, Pittsfield, Ma.
Cambridge Masters Swim Club, Cambridge, Ma.
Worcester Area Masters, Worcester, Ma.
Burlington Area Sink or Swim, Williston, Vt.
Minuteman Masters Swim Club, Andover, Ma.
The Edge, Williston, Vt.
Sacramento Swim 4 Life, Sacramento, Ca.

We will be awarding grants for the 2014-2015 year at our September annual meeting. The window to apply for a 2015-2016 grant will open in April of 2015. To be notified when the next grant window is open, please send your e-mail to Claudia Woods.
For more information, read the Swimming Saves Lives Foundation strategic plan. USMS also accepts planned giving and bequests. If you'd like to discuss opportunities to contribute to the USMS Swimming Saves Lives Foundation, please contact Rob Butcher at 941-556-6270 or via email. You can also make an online donation. Please read our gift acceptance policy.
U.S. Masters Swimming is registered as a 501(c)(3) nonprofit organization. Contributions to the USMS Swimming Saves Lives Foundation are tax deductible to the fullest extent of the law. U.S. Masters Swimming's tax identification number is 31-0999051. A COPY OF THE OFFICIAL REGISTRATION AND FINANCIAL INFORMATION MAY BE OBTAINED FROM THE DIVISION OF CONSUMER SERVICES BY CALLING TOLL-FREE (800-435-7352) WITHIN THE STATE OR FROM THE WEBSITE, www.800helpfla.com. REGISTRATION DOES NOT IMPLY ENDORSEMENT, APPROVAL, OR RECOMMENDATION BY THE STATE. USMS's Florida registration number is CH33301. You can find out more about us on guidestar.org under United States Masters Swimming, Inc.