U.S. Masters Swimming Articles & Videos
Presented by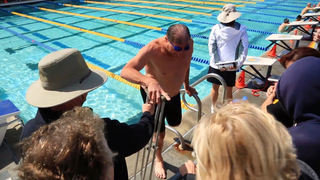 Human Interest
Profiled in the September-October issue of SWIMMER magazine, Masters swimmer Vic Wagoner talks about the motorcycle accident that cost him his leg and nearly his life. Incredibly, this Los Angeles...
Adult Learn-to-Swim / USMS Clubs
Coach Benicia Rivera of the Richmond Plunge Masters received a Swimming Saves Lives Foundation Grant in 2014. What she did with it will warm your heart. She sent us this video as a thank-you for the grant. Thank YOU, Coach Rivera, for all you've done here.
Coaching / Training
For many swimmers, distance sets can be dull as they seem to go on, and on, and on. For others though, a continuous swim can be manageable or even pleasurable. Regardless of your interest in long distance and tolerance for swimming long sets, ladder sets can be highly beneficial for all swimmers.

The USMS website contains articles about sports medicine, health, and nutrition. This information is not intended to be a substitute for professional or medical advice on personal health matters. For personal medical advice, or if you are concerned about a medical condition or injury, see your healthcare provider for evaluation and care. The USMS website also contains articles about swim training and technique, including drills and workouts. All swimmers should be evaluated by a healthcare professional prior to beginning swim training. In addition, consult with a trained coach when introducing new technique or drills to your swim training program.