U.S. Masters Swimming Articles & Videos
Presented by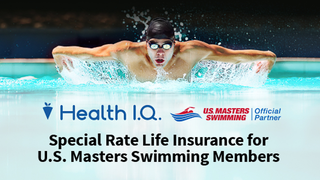 Press Releases
USMS is pleased to announce a unique new USMS membership benefit, special-rate life insurance for swimmers, from our official partner Health IQ. Health IQ works with innovative insurance carriers to...
Press Releases
Legendary OxiClean pitchman Anthony Sullivan has found a big cause to support: teaching adults lifesaving skills through U.S. Masters Swimming and its Swimming Saves Lives Foundation's adult learn-to-swim initiative.
Press Releases
More than 2,000 adult swimmers from across the U.S. are competing in the meet
Press Releases
About 10 people drown every day in the United States, most of them adults or young adults, according to the CDC. U.S. Masters Swimming, with its adult learn-to-swim initiative, is on the front lines to reduce this statistic.
Press Releases
U.S. Masters Swimming has concluded its annual meeting during the United States Aquatic Sports Convention. In addition to committee meetings and rules and legislation reviews, USMS held at-large director elections and honored many of its deserving volunteers with service awards.
Press Releases
Anthony Sullivan, star of the Discovery Channel's "Pitchmen" series and renowned spokesperson for OxiClean, Stick-Up Bulbs, Swivel Sweepers, and other beloved products, has teamed up with U.S. Masters Swimming.
Press Releases
Swimming will take center-stage in Rio de Janiero this month and interest in the sport of swimming will increase through TV viewership, internet searches, and inquiries at local pools across the...

The USMS website contains articles about sports medicine, health, and nutrition. This information is not intended to be a substitute for professional or medical advice on personal health matters. For personal medical advice, or if you are concerned about a medical condition or injury, see your healthcare provider for evaluation and care. The USMS website also contains articles about swim training and technique, including drills and workouts. All swimmers should be evaluated by a healthcare professional prior to beginning swim training. In addition, consult with a trained coach when introducing new technique or drills to your swim training program.