U.S. Masters Swimming Articles & Videos
Presented by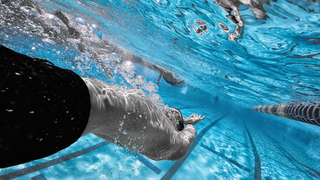 Drills / Starts and Turns / Technique and Training
Here are a few questions to ask yourself before vowing to become an awesome SDKer.
Drills
When sculling, you create high- and low-pressure areas by changing the pitch and shape of your hand. Much the way an airplane wing or a propeller works, the movement of water around your hand during...
Drills
Last year at the USA Triathlon Art & Science of Coaching Symposium, the High Performance Director for USA Pentathlon, Dr. Genadijus Sokolovas (aka Dr. G.), presented his favorite freestyle drill....
Coaches Only / Drills / Technique and Training
Albert Einstein defined insanity as "doing the same thing over and over and expecting different results." Yet many Masters swimmers repeat the same workout with only minor variety, and then wonder why they don't improve. Here are some suggestions to help you break out of that rut.
Drills / Open Water / Triathlon
In order to maximize pool workouts for triathlon, training should focus not only on building aerobic endurance, but also on technique appropriate for efficient swimming in a dynamic open water...
Drills / Open Water / Stroke Technique / Technique and Training
Everybody knows that rest and recovery are essential components of an effective training program. But have you ever thought about how to rest and recover during a workout, or even a race? You should—it will definitely help your training and race performance.
Drills / Open Water
Most swimmers who train in the pool use both the lane lines and markings on the bottom of the pool to tell them whether or not they're swimming in a straight line. With the visual feedback from...

The USMS website contains articles about sports medicine, health, and nutrition. This information is not intended to be a substitute for professional or medical advice on personal health matters. For personal medical advice, or if you are concerned about a medical condition or injury, see your healthcare provider for evaluation and care. The USMS website also contains articles about swim training and technique, including drills and workouts. All swimmers should be evaluated by a healthcare professional prior to beginning swim training. In addition, consult with a trained coach when introducing new technique or drills to your swim training program.