U.S. Masters Swimming Articles & Videos
Presented by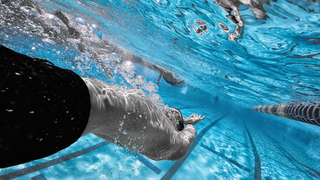 Drills / Starts and Turns / Technique and Training
Here are a few questions to ask yourself before vowing to become an awesome SDKer.
Starts and Turns
Excellence is not accidental. While we might be able to perform any particular movement properly during a focused drill, it takes tons of practice to ensure that those skills become so ingrained...
Starts and Turns / Stroke Technique
Good starts are really hard to define. To a casual observer, a good start is one that looks pretty. In reality, looking pretty is not nearly as important as the physics of the start and how that sets you up for a great race; this is swimming, not diving, so looking good is great, but being fast is better!
Starts and Turns / Stroke Technique
We've all seen it—the slow backstroke start. There are a few common varieties and some are adaptations based on ability, a limited range of motion, or some other factor. Regardless of why they're happening, slow starts typically come in a variety of flavors.
Coaches Only / Starts and Turns / Technique and Training
If you're a competitive Masters swimmer, then you barely have enough time for swim practice, much less starts. To make the most of whatever time you do have, here's a quick checklist of toys,...
Starts and Turns
For competitive swimmers, one of the biggest areas of opportunity for improvement is in streamlines, transitions and breakouts. An effective way to coach this technique is to break it down into three...
Starts and Turns
Former NCAA champion and American record holder Clay Britt provides insight into the proper way to do a backstroke start.

The USMS website contains articles about sports medicine, health, and nutrition. This information is not intended to be a substitute for professional or medical advice on personal health matters. For personal medical advice, or if you are concerned about a medical condition or injury, see your healthcare provider for evaluation and care. The USMS website also contains articles about swim training and technique, including drills and workouts. All swimmers should be evaluated by a healthcare professional prior to beginning swim training. In addition, consult with a trained coach when introducing new technique or drills to your swim training program.