U.S. Masters Swimming Articles & Videos
Presented by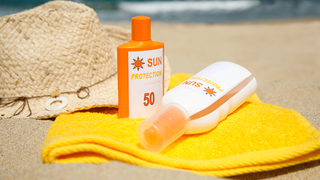 Health and Nutrition / Sports Medicine
In our article, "Swimmers' Sun Exposure and Skin Cancer," Sherrif F. Ibrahim, assistant professor of dermatology and oncology at the University of Rochester Medical Center, warns swimmers about...
Health and Nutrition
Summer is approaching, and that means more outdoor competitions and swimming practices. Yes, making that interval or winning that race is important, but so is protecting your skin from the sun while on the deck and in the pool. 
Advertorial / Health and Nutrition
For busy Masters swimmers who want to perform at their best, both in the water and out, two components of training are critically important: nutrition and sleep.
Health and Nutrition
We all know the feeling of getting out of the pool, physically sore yet pleasantly rejuvenated. But another perception many swimmers have immediately after practice is a stinging and burning...
Health and Nutrition
The barefoot swimmer's lifestyle can be hazardous to your feet. First, there's the chafing and drying that comes from walking on rough pool decks and soaking in chlorine-rich water for hours on...
Health and Nutrition / Training
There are many different ways to be successful in your swim training, and what and when you eat contributes to that success. When it comes to maximizing the effectiveness of your nutrition, it's often a matter of timing.
Health and Nutrition / Training
If you've been swimming for any length of time, you've likely experienced some aches and pains. Whether it's while you're in the water or maybe a few hours after, most Masters swimmers will encounter some type of pain on occasion.

The USMS website contains articles about sports medicine, health, and nutrition. This information is not intended to be a substitute for professional or medical advice on personal health matters. For personal medical advice, or if you are concerned about a medical condition or injury, see your healthcare provider for evaluation and care. The USMS website also contains articles about swim training and technique, including drills and workouts. All swimmers should be evaluated by a healthcare professional prior to beginning swim training. In addition, consult with a trained coach when introducing new technique or drills to your swim training program.