U.S. Masters Swimming Articles & Videos
Presented by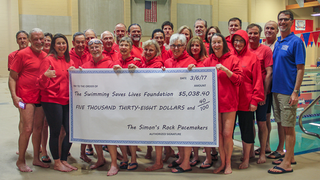 Adult Learn-to-Swim / Human Interest
The Simon's Rock PaceMakers put a new twist on a longstanding USMS event this winter when the workout group in Great Barrington, Mass., put a fundraising push behind the venerable USMS 1-Hour ePostal National Championship.
Human Interest
The recent U.S. Olympic Trials included more than 40 current or former U.S. Masters Swimming members who were either competing there for the first time, or were seasoned pros at the most intense...
Human Interest
The day Dara Torres hit the water in her fifth Olympics, my reentry to swimming began. She swam a sub-25-second 50 freestyle while I clung to the wall like a terrified 4-year-old on the first day of lessons.
Human Interest
They say diplomats who serve in Kabul, Afghanistan become hunks, skunks, drunks, monks, or chunks. I was determined to become the former and not the latter, so when I heard there was a pool on our embassy compound, I made a beeline for it.
Adult Learn-to-Swim / Human Interest
In the summer of 1977, my half-brother Henry was living in Bloomington, Ind., having moved there a couple years earlier after his parents' divorce and our father's marriage to my mother. I was...
Adult Learn-to-Swim / Human Interest / Open Water
What's a weekend worth in the quest to make sure every adult in the United States is water-safe? That's the question two teams recently asked themselves in setting out to swim for change. And...
Human Interest
Your teammates are your family. Our tight-knit community bonds swimmers together across miles and years. Whether you've hung up the suit or continue the journey, your teammates and the experiences you've shared will last a lifetime.

The USMS website contains articles about sports medicine, health, and nutrition. This information is not intended to be a substitute for professional or medical advice on personal health matters. For personal medical advice, or if you are concerned about a medical condition or injury, see your healthcare provider for evaluation and care. The USMS website also contains articles about swim training and technique, including drills and workouts. All swimmers should be evaluated by a healthcare professional prior to beginning swim training. In addition, consult with a trained coach when introducing new technique or drills to your swim training program.