U.S. Masters Swimming Articles & Videos
Presented by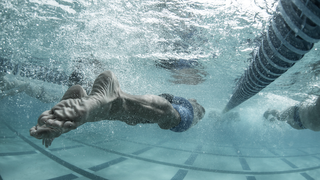 Fitness / Sports Medicine
You're on the ninth of 10 x 100s and push off the wall, psyched to bring the set home. After a burst of three dolphin kicks off the wall, it feels like a knife has suddenly pierced your calf muscles....
Drylands / Fitness
One of the reasons swimmers experience shoulder problems is because they often don't target their shoulders with appropriate exercises to increase overall strength and mobility. If you have more durable shoulders, you'll be a more durable swimmer.
Drylands / Fitness
Coordination and balance are signs of strength and are tied to vitality and overall quality of life, not just athletic performance. Working on coordination and balance is an important part of strength-training regimens, especially for adult athletes as they experience age-related muscle loss.
Drylands / Fitness
As a Masters swimmer you probably have goals that include living a high-quality, healthy life, as well as improving your performance in the pool. I've written previously about how strength gains...
Drylands / Fitness
To properly perform a push-up, you must keep complete tension throughout your body. There aren't many exercises that require this tension. This type of movement isn't just about developing the...
Drylands / Fitness
Knees can be a troublesome point of pain or irritation. Anatomically, the knee could be considered a "dumb joint" because, as a hinge joint, it can only flex and extend with minor rotation....
Drylands / Fitness
In order to realize your full athletic potential and remain as injury-free as possible, it's vital to keep your hips in working order. Many people will talk about the core and how important...

The USMS website contains articles about sports medicine, health, and nutrition. This information is not intended to be a substitute for professional or medical advice on personal health matters. For personal medical advice, or if you are concerned about a medical condition or injury, see your healthcare provider for evaluation and care. The USMS website also contains articles about swim training and technique, including drills and workouts. All swimmers should be evaluated by a healthcare professional prior to beginning swim training. In addition, consult with a trained coach when introducing new technique or drills to your swim training program.