U.S. Masters Swimming Articles & Videos

By Author: The Professionals at TYR
Presented by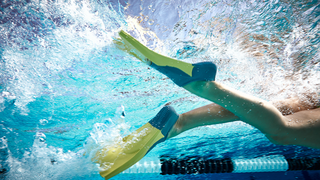 Products and Reviews
Training fins are lightweight tools that can have a big-time impact. They help swimmers improve their endurance, leg strength, and technique—things that can help you achieve that personal best or improve your fitness level.
Products and Reviews
When it comes to race day, few things are as important as your gear. And for a competitive swimmer at any level, a well fitting technical suit is certainly at the top of the list. From maximized core...
Products and Reviews
Training paddles are lightweight tools built for in-water use. When strapped to the palms of each hand, they help to improve stroke technique and arm strength by evenly distributing water pressure....
Products and Reviews
A pull buoy is a compact and easy tool to use while you swim. Placed between the legs, the pull buoy creates an ideal body position by lifting your legs to the surface. From Olympian to novice, pulling is a great way to increase endurance, improve technique, and add some variation to your swim workout.
Products and Reviews / Technique and Training
Have you ever wished you could trade your lungs for gills, so that you could swim freely for as long as you wanted without having to come up for air? Well, you can come close, thanks to one piece of training equipment: the snorkel.
Open Water
As the sport of open water swimming grows, more and more swimmers have experimented with open water swimming gear. One piece of gear that open water swimmers can use to their advantage is the...
Whether looking to break an age-group record or go a personal best time, Masters swimmers put in countless hours in the pool, on dry land and through proper nutrition to achieve their personal goals....

The USMS website contains articles about sports medicine, health, and nutrition. This information is not intended to be a substitute for professional or medical advice on personal health matters. For personal medical advice, or if you are concerned about a medical condition or injury, see your healthcare provider for evaluation and care. The USMS website also contains articles about swim training and technique, including drills and workouts. All swimmers should be evaluated by a healthcare professional prior to beginning swim training. In addition, consult with a trained coach when introducing new technique or drills to your swim training program.