U.S. Masters Swimming Articles & Videos
Presented by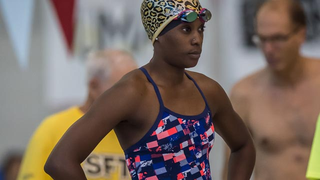 Coaching / Training
This time of year, many of us reflect back on the past year and think about what we'd like to do in the year ahead of us. Sometimes we start off with by making a New Year's resolution. We've...
Coaching
As swimming coaches, we hear the following six things (or variations on them) just about every day from swimmers: Is today going to be hard? How far did we go/are we going to go? When is sprint day? When is taper? My (name of body part) hurts. I'm going to take it easy today.  Is there a lot of kicking?
Coaching / Drills
No, you're not hitting it or pushing off of it. You're using it to teach your tactile and kinesthetic learners what a really good freestyle pull feels like.
Training
Look at any swimmer's equipment bag and chances are you will find a pair of fins. They are great for all kinds of uses from helping to isolate a part of your stroke to strengthening the core and...
Coaching
There's a lot to love about swimming: competition, camaraderie, and the feeling of being well and healthy. For us coaches, one of the more interesting things we deal with regularly is how we...
Coaching / Stroke Technique
We've spent a number of years preaching high elbow. There have been various interpretations of this directive, and we'll get into that shortly. But as I was working with a rather flexible athlete recently, a funny thing occurred to me: we never talk about where the shoulder should be.
Coaching
Coaches are often asked what athletes should do for warm-up before they race at a meet. The best warm-up should challenge and prepare your swimmers not too much, not too little, but just right. And...

The USMS website contains articles about sports medicine, health, and nutrition. This information is not intended to be a substitute for professional or medical advice on personal health matters. For personal medical advice, or if you are concerned about a medical condition or injury, see your healthcare provider for evaluation and care. The USMS website also contains articles about swim training and technique, including drills and workouts. All swimmers should be evaluated by a healthcare professional prior to beginning swim training. In addition, consult with a trained coach when introducing new technique or drills to your swim training program.