U.S. Masters Swimming Articles & Videos

Presented by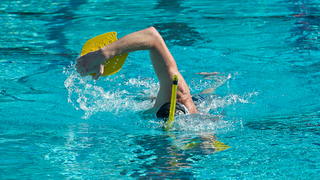 Coaching / Stroke Technique / Training
Swimming is different from most other sports because we spend very little time exerting force against a solid object. As terrestrial creatures, we spend our whole lives with resistance based on some...
Coaching / Stroke Technique
Why is butterfly the hardest stroke? Masters swimmers frequently ask this question, but the answer is: it doesn't have to be.
Stroke Technique
Although breaststroke can be extraordinarily frustrating for those of us who struggle with the stroke, you can't simply blame it on your shape or size, because the best breaststrokers defy description. Breaststrokers come in all shapes, sizes, and techniques.
Open Water / Triathlon
Triathlon is a fast-growing sport with a lot of appeal. Part of what makes it so compelling is the combination of three different disciplines into a single event. And it's a great sport for...
Coaching / Stroke Technique
Observers of elite swimming have noted that some of the fastest freestylers are flattening out—rotating less—specifically in the hips. This is especially true for the sprinters, who tend to drive their stroke with a flat kick, rotating only their upper bodies.
Coaching / Stroke Technique
Ask yourself: "Am I a bad kicker?" Do you go first on swim and pull sets and last on kick sets? Do you find a reason to adjust your goggles, go to the locker room, fake an injury, or modify the...
Coaching / Training
Swimming on your own has its advantages and disadvantages. Some Masters swimmers have had great success by swimming on their own or with one other person from time to time. On the pro side, when...

The USMS website contains articles about sports medicine, health, and nutrition. This information is not intended to be a substitute for professional or medical advice on personal health matters. For personal medical advice, or if you are concerned about a medical condition or injury, see your healthcare provider for evaluation and care. The USMS website also contains articles about swim training and technique, including drills and workouts. All swimmers should be evaluated by a healthcare professional prior to beginning swim training. In addition, consult with a trained coach when introducing new technique or drills to your swim training program.