U.S. Masters Swimming Articles & Videos
Presented by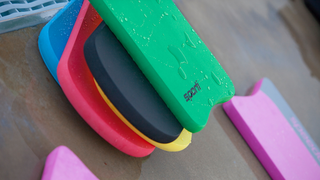 Drills / Training
We seem to spend a lot of time on kickboards. That's fine for many (and great for social sets), but kicking with a board can be uncomfortable, especially in the lower back. Besides the discomfort,...
Coaching / Drills / Stroke Technique / Triathlon
Recently, a coach told me about watching his novice swimmers flutter kick. Despite a lot of effort, they weren't going anywhere. The coach had tried wall kicks and a few other techniques to improve...
Training
You listened to your coach. You did the yards. You did the dryland training, and you followed the proper nutrition plan. You made it through the taper. What happened on race day? Not what you expected.
Coaching
While at dinner with some coaches a few months back, the subject of water time and pool space came up. Several coaches lamented the fact that they want to grow but can't, because of the...
Coaching / Training
We all know someone (maybe you are one yourself) who is a great multitasker. You know—the type of person who can concentrate on multiple things at the same time and seem to do all of them pretty...
Drills / Stroke Technique / Training
Coaches often talk about the recovery, the catch, the rotation of the body, and a lot of other things that contribute to fast freestyle. Granted, there are a lot of things that are matters of style,...
Coaching / Training
When I was a kid, I was part of a group of swimmers who were poor kickers. (OK, we were terrible, actually.) Our speed came from muscling through sets using just our upper bodies. We avoided kick...

The USMS website contains articles about sports medicine, health, and nutrition. This information is not intended to be a substitute for professional or medical advice on personal health matters. For personal medical advice, or if you are concerned about a medical condition or injury, see your healthcare provider for evaluation and care. The USMS website also contains articles about swim training and technique, including drills and workouts. All swimmers should be evaluated by a healthcare professional prior to beginning swim training. In addition, consult with a trained coach when introducing new technique or drills to your swim training program.