U.S. Masters Swimming Articles & Videos
Presented by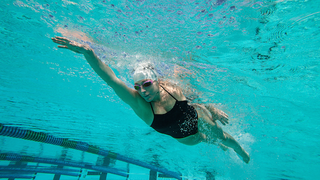 Technique and Training
The majority of us swimmers like to breathe. In freestyle, many of us breathe every stroke cycle to one side or the other. Although it's better to breathe on alternating sides, given that we do like to breathe, it's easy to fall into a pattern of breathing more often to one side.
Fitness / Technique and Training
Coach Dave Samuelsohn provides a list of five easy things that can help you to get better at swimming now: warm up, Enter, push off, breathe right and stretch. Nothing here is difficult to do and each of these ideas will make you better at swimming. It's almost cheating. You just have to do it.
As swimmers, when we think of balance, the idea of body roll, smooth and effortless, comes to mind. But as Masters swimmers, as adults with complex lives and pressures, the idea of balance takes on...

The USMS website contains articles about sports medicine, health, and nutrition. This information is not intended to be a substitute for professional or medical advice on personal health matters. For personal medical advice, or if you are concerned about a medical condition or injury, see your healthcare provider for evaluation and care. The USMS website also contains articles about swim training and technique, including drills and workouts. All swimmers should be evaluated by a healthcare professional prior to beginning swim training. In addition, consult with a trained coach when introducing new technique or drills to your swim training program.