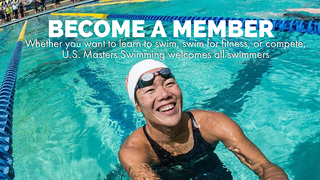 Get Fit with U.S. Masters Swimming!
Learn more about what we can do for you
U.S. Masters Swimming's membership is a growing community of more than 65,000 adult fitness swimmers across the country who are leading healthy and active lifestyles. USMS members have access to a network of 2,600 USMS-certified coaches and 1,500 Masters Swimming clubs and workout groups to help them stay motivated, customize their training programs, and make working out fun.
Whether you train on your own or swim with a club or workout group, you'll find like-minded swimmers in your community and across the country. USMS membership provides the information, resources, and tools to be successful; you'll love all the benefits of USMS membership.
Become a U.S. Masters Swimming member today!
SmartyPants Vitamins U.S. Masters Swimming Fitness Series
The inaugural SmartyPants Vitamins U.S. Masters Swimming Fitness Series is a great way to reach your fitness goals through the best sport of all: swimming. The first event in the Series, the SmartyPants Vitamins USMS Winter Fitness Challenge, runs from Feb. 15 to 28 and is perfect for anyone looking to start the New Year with a fitness resolution. It's a 30-minute swim, which you can do on your own, with friends, with fins—however you like. We provide exclusive training plans to help you get ready for this new and fun event.