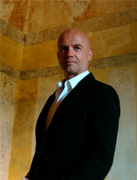 Meet Donald Graham
Sprinter and photographer
Donald Graham grew up in Seattle, Wash., competing for Cascade and Totem Lake Swim Teams and competes in Masters with his boyhood teammates at Pacific Northwest Aquatics. He attended the University of Texas on a swimming scholarship, took 22 years off from competition and began training again in 1998. As of 2011, he has achieved 158 USMS Top 10 rankings, nine All American awards and two national relay records.

Training for sprints has been a great interest of his both when he was a young swimmer and later as an assistant coach at the University of Southern California and as a head coach at the Bellevue Eastside Swim Team in Seattle. As a Masters swimmer, he focuses almost exclusively on sprinting.

Donald trains five days a week. Monday is a one hour high intensity sprint workout on his own covering about 800 yards, Wednesday is a one hour aerobic IM workout with the UCLA Masters covering about 3,000 yards, Friday is a sprint workout with UCLA Masters, usually with racing off the blocks. Saturday is a two hour heavy weight lifting workout and Sunday is two hours focused on yoga, stretching and core exercises. He usually competes in both USMS national championships each year.

Today, Donald Graham is an internationally recognized portrait, fashion and fine art photographer who works in the worlds of fashion, movies, music, magazines and advertising. His photography is in the permanent collection of the
Metropolitan Museum of Art in New York and the International Center of Photography. His photographs have appeared in over 500 publications worldwide, including Vogue, Time and Sports Illustrated and he has done ad campaigns for many Fortune 500 companies. He has recently begun making films and commercials as well. Donald resides in Seattle and spends ample time in Los Angeles, New York and Taos, N.M. as well.