Live Stream of the 2016 USMS Summer National Championship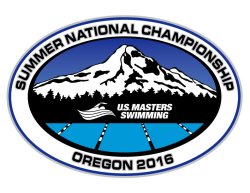 2016 USMS Summer National Championship
Gresham, Oregon
August 17-21, 2016
A live stream from the championship is available here and starts on August 17. Reload/refresh this page if the meet has already begun.
Follow along with the streams below and by using the real-time results and the estimated timeline (PDF).
Streams From Other Days of the Meet
View each day's video on our YouTube channel (hint: you can rewind to view your swims!):
Day 4 (Saturday) 400 free, 50 free, 200 fly, 100 back, mixed 200 free & medley relays
Day 3 (Friday) 800 free, 50 breast, 200 IM, 200 free relay
Day 2 (Thursday) 400 IM, 100 breast, 200 free, 50 back, 100 fly
Day 1 (Wednesday) 1500 free

Thanks for watching!