2012 Marriott Summer Nationals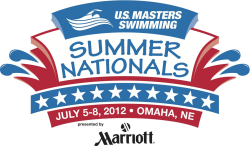 2012 Marriott Summer Nationals
Omaha, Nebraska
July 5-8, 2012
In 2012, the USA Swimming Olympic Trials will once again return to Omaha and this time the Marriott USMS Summer Nationals will follow the USA Swimming Olympic Trials. All the pageantry from the Olympic Trials will be in place for the Marriott USMS Summer Nationals. Event heats will be broadcast live in the CenturyLink Center on the JumboTron. We will produce and broadcast our daily USMS SwimCenter from Omaha. Get your picture taken on the Olympic Trials podium.

LIVE STREAMING, REAL TIME RESULTS AND VIDEO RECAPS

Family and friends at home will once again be able to watch our national championship via a live streaming video feed from the pool. Real time results are also available during the meet, and a daily video recap will be available as the meet progresses. A preview video, including a tour of the facility is available now.

ESTIMATED TIME LINE

An estimated time line for the meet is available. This time line is only a guide for swimmers to use in determining the approximate start of all events. We may run ahead of or behind the estimate. It is the responsibility of all swimmers to get to the pool well before their event and be behind the blocks before their event starts.
All swimmers must check in for each deck seeded event by the check-in deadline.

MEET ROSTER AND HEAT/PSYCH SHEETS

Entries for this meet are now closed. There are 1,257 swimmers entered. The meet roster, team roster, heat/psych sheets and a swimmer lookup function are now available for review. Heat sheets for deck-seeded events (all events 200 meters or longer) will be available at the pool deck the day of the event once they have been seeded.

EVENT SEEDING AND CHECK-IN

Due to the number of swimmers entered in the meet and the expected longer days, individual events will be seeded as follows:
1500 & 800 Freestyle: Deck seeded by time only with genders mixed (positive check-in required)
All 400s and 200s: Deck seeded by time only with genders separate (positive check-in required)
All 100s and 50s: Pre-seeded by age and then time
Heat sheets for pre-seeded events are now available.

SCHEDULE OF EVENTS
USA Swimming Olympic Trials* June 25-July 2, 2012
Swim Clinic with Olympians Rowdy Gaines and Misty Hyman July 4, 2012
Myrtha Pools tour and warm up July 4, 2012
Pre-meet warm-up available July 4, 2012
Marriott USMS Summer Nationals July 5-8, 2012
*Olympic Trials tickets available at www.usaswimming.org


OFFICIALS NEEDED

If you are a qualified official who would like to officiate at this meet, download and return our application to officiate. The application deadline is April 13 for assigned officials and June 1 for all other officials.


HOTELS

USMS has contracted exclusively with the Omaha Sports Commission to provide hotel rooms for the Summer Nationals. All the hotels within a 4-block radius of the CenturyLink Center provide complimentary shuttle service to/from the Airport and when available to/from the CenturyLink Center. Please select your preferred hotel and book online. You will not need a rental car but if you do get a rental car, you may have to pay hotel parking fees and a CenturyLink Center parking fee.
To make a group or team reservation, please contact Mary Jane Hughes. Mary Jane is with the Omaha Sports Commission and is our liaison to all the hotels in the Omaha area. Mary Jane can be reached at 480-342-9925 or destphx@aol.com.

SWIMMING SAVES LIVES FOUNDATION
The cost to rent the CenturyLink Center and install a competition and warm up Myrtha Pool is in the millions. USA Swimming and the Omaha Sports Commission are responsible for operation and promotion of the USA Swimming Olympic Trials. The Olympic Team will practice the morning of July 3rd, and then USMS will be responsible for rent and operation of the warm up and competition pool areas.
Through contributions to the USMS Swimming Saves Lives Foundation, and our partnership with USA Swimming, Omaha Sports Commission and Myrtha Pools, we are able to make this truly unique experience available to USMS members at event entry prices similar to previous Nationals.
If you would like to learn more or support the Swimming Saves Lives Foundation, visit www.usms.org/giving

MORE INFORMATION
Tom Boak who has served as the Meet Director for four previous USMS Summer Nationals is our Meet Director. Please direct inquiries to Tom via email or phone at 713-503-0819.