2009 Long Course Nationals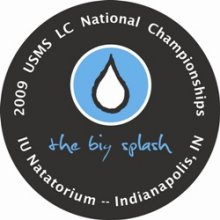 IU Natatorium on the IUPUI Campus
Indianapolis, IN, August 6-10, 2009
Final Meet Results
The final results for all events are available by age group or by event (results by event includes relay splits). Results are also available in our searchable database and in a downloadable zip file with results for each LMSC suitable for copying to newsletters. There were 80 individual and 42 relay record-breaking swims at the meet. Team scores are available for the club and regional team categories. Congratulations to all participants and thank you to all event coordinators, officials and volunteers.
Meet Roster, Heat & Psych Sheets
The entries for this meet are closed and 1145 swimmers have entered the meet. The meet roster and heat and psych sheets are now available for review, along with a swimmer lookup feature to view an individual swimmer's events.
Lactate Clearance Test
Genadijus Sokolovas of Global Sport Technology will once again be available at the USMS National Championship for swimmers. Swimmers may sign up at the pool for a lactate clearance test for $40. See the flyer for details. "Doctor G" is a pioneer in this field and is now also offering a Swim Power Test to clients.
Relays
All relays will be swum on Saturday, August 8, 2009. All relay entries are due by 4 p.m. on Thursday, August 6, 2009.The relay entry form is available for you to download so that you can fill it out prior to the meet.
Sixth Event Decision
The Championship Committee has decided that swimmers' sixth event entries shall be dropped from this meet due to the large size of the meet and expected long days. The estimated time line will be available by July 25.
Meet Information
Swimmers can read the complete meet information here, as well as an article about the meet and the Indianapolis area from the May/June issue of USMS SWIMMER magazine. The meet will run a 5-day format from Thursday through Monday, with the distance events (800 and 1500) held on Monday. Saturday will be an all-relay day, offering all relays from the 200s up to the 800 free relay. Swimmers will be able to participate in up to 4 relays on Saturday in addition to up to 6 individual events.
Hotels
The host hotels, both within walking distance of the pool, are the University Place and the Marriott Courtyard at the Capitol. Details for these and other hotels in the area are available on the travel page. There will not be a shuttle service for this meet due to the availability of hotels within walking distance of the pool.
Meet Host Newsletters
Meet Host Indy SwimFit will publish a series of pre-meet newsletters containing helpful information for swimmers leading up to the meet. All newsletters will be available here for download in PDF format.

Newsletter 1 - General Information
Application to Officiate
An application to officiate at the meet is now available. Applications are due to Meet Referee Lucy Duncan by June 30.