Event
Santa Barbara Masters Open Water Swim Camp
| | |
| --- | --- |
| Date: | Jun 28 - Jul 2, 2017 |
| Course: | Open Water |
| Location: | Santa Barbara, CA |
| LMSC: | Southern Pacific |
| Country: | USA |
| Description: | Join us for our Semana Nautica Open Water Training Camp. The objective of this training camp is to give you daily experience with open water races as well as methods to optimize your recovery post-race and workouts. The camp includes four open water races, two pool work outs, videotaping, open water racing strategy, nutrition, wellness and yoga sessions. Camp dues also include meet entry in our masters swim meet on 6/30 and 7/1. |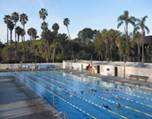 Sanction Status:
Not sanctioned or recognized by USMS
Sanction Number:
Event ID:
20170628SBOWCO
Championship:
Not a Zone, National, or International Championship
Postal Swim:
No
Competition or Clinic:
Clinic
Event Website:
Link To Event Website
Online Registration Website:
Entries Close 6/17/2017
Other Document(s):
Link To SBM Open 2017 Open Water Camp Info
Other Event Info:
Join us for our Semana Nautica Open Water Training Camp. The objective of this training camp is to give you daily experience with open water races as well as methods to optimize your recovery post-race and workouts. The camp includes four open water races, two pool work outs, videotaping, open water racing strategy, nutrition, wellness and yoga sessions. Camp dues also include meet entry in our masters swim meet on 6/30 and 7/1.

Venue



Los Banos Del Mar Pool
401 Shoreline Drive
Santa Barbara, CA 93109 USA

Contact:

No contact information found!