U.S. Masters Swimming Articles & Videos
Presented by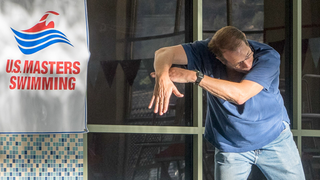 Coaches Only
Here are a few suggestions for on-deck gestures to help mid-set swimmers focus on the fine points of proper technique. Remember that you are connecting to each swimmer as an individual, so look them in the eye as you give your signals.
Technique and Training
Swimming well requires concentration on technique, but it's difficult to continually think about every little detail required for optimal performance. Here are some ways to mentally divide your swims into manageable chunks to maintain focus.
About USMS
U.S. Masters Swimming's membership is a growing community of more than 65,000 adult fitness swimmers across the country who are leading healthy and active lifestyles. USMS members have access to a...
Technique and Training
In a sport where we're taught from childhood on that the only true measure of our ability is the stopwatch, how can we not feel this way?
Human Interest
As one of 134 volunteers, swimmer Margot Pettijohn leads horses and riders through 30-minute- or hour-long riding lessons. 
Adult Learn-to-Swim / Human Interest
The Coronado Masters Association swimmer and USMS-certified adult learn-to-swim instructor helped teach 121 adults and 309 children over 10 days during the early-October trip to the Ssese Islands, a group of 84 islands in the East African country.
Coaches Only
Here are a few of the things we do with the Joliet Park (Ill.) District Blue Tides.

The USMS website contains articles about sports medicine, health, and nutrition. This information is not intended to be a substitute for professional or medical advice on personal health matters. For personal medical advice, or if you are concerned about a medical condition or injury, see your healthcare provider for evaluation and care. The USMS website also contains articles about swim training and technique, including drills and workouts. All swimmers should be evaluated by a healthcare professional prior to beginning swim training. In addition, consult with a trained coach when introducing new technique or drills to your swim training program.