U.S. Masters Swimming Articles & Videos
Presented by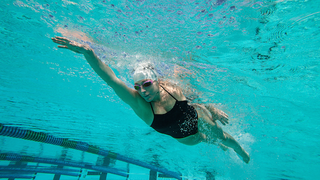 Coaching / Drills / Stroke Technique / Training
Your distance per stroke tells only part of the story in terms of your stroke.
Press Releases
More than 2,000 adult swimmers from across the U.S. are competing in the meet
USMS Promotional
U.S. Masters Swimming's membership is a growing community of more than 65,000 adult fitness swimmers across the country who are living a healthy and active lifestyle. USMS members have access to a...
Coaching / Training
Swimmers receive significant benefits from competing, and if coaches pay attention to those events, we'll improve at our jobs.
Training
As with any physical activity, swimming offers you both good and bad days. Some days you'll have great workouts, others you'll slog through mediocre workouts, and some days you'll have bad...

The USMS website contains articles about sports medicine, health, and nutrition. This information is not intended to be a substitute for professional or medical advice on personal health matters. For personal medical advice, or if you are concerned about a medical condition or injury, see your healthcare provider for evaluation and care. The USMS website also contains articles about swim training and technique, including drills and workouts. All swimmers should be evaluated by a healthcare professional prior to beginning swim training. In addition, consult with a trained coach when introducing new technique or drills to your swim training program.