U.S. Masters Swimming Articles & Videos
Presented by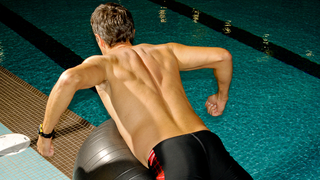 Technique and Training
How do we keep those pains and clicks from ever happening in the first place?
Health and Nutrition
Shoulder discomfort is a common complaint amongst Masters swimmers. For some, the pain keeps them awake at night and escalates to chronic. Articles and blog posts promise a pain-free shoulder with a...
Technique and Training
Many swimmers have missed time in the water due to some type of shoulder injury, whether minor or severe. Some shoulders are too tight and others aren't strong or stable enough. Swimmers need shoulders that have:
Technique and Training
One of the reasons swimmers experience shoulder problems is because they often don't target their shoulders with appropriate exercises to increase overall strength and mobility. If you have more durable shoulders, you'll be a more durable swimmer.
Coaches Only / Technique and Training
"Oh, my aching shoulder! Coach, what can I do for this?" How many of us coaches hear this on a daily basis? Adult swimmers are so crunched for time that most of them can't properly take care of...
Products and Reviews
Swimming is kind to the body—its low impact and near-weightless suspension can make your joints sing with joy. However, the repetitive movements aren't always so forgiving, particularly on the...
Health and Nutrition
If you're having shoulder soreness and you've done your due diligence—you've talked technique with your coach, you've seen a doctor to rule out chronic or acute injury—but you're still sore, have you considered the way you rest at the wall?

The USMS website contains articles about sports medicine, health, and nutrition. This information is not intended to be a substitute for professional or medical advice on personal health matters. For personal medical advice, or if you are concerned about a medical condition or injury, see your healthcare provider for evaluation and care. The USMS website also contains articles about swim training and technique, including drills and workouts. All swimmers should be evaluated by a healthcare professional prior to beginning swim training. In addition, consult with a trained coach when introducing new technique or drills to your swim training program.