U.S. Masters Swimming Articles & Videos
Presented by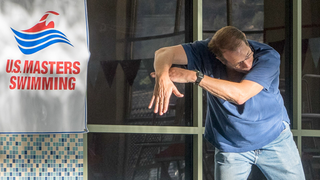 Coaches Only
Here are a few suggestions for on-deck gestures to help mid-set swimmers focus on the fine points of proper technique. Remember that you are connecting to each swimmer as an individual, so look them in the eye as you give your signals.
Coaches Only
Here are a few of the things we do with the Joliet Park (Ill.) District Blue Tides.
Coaches Only
Let's discuss a few ways to train your swimmers for that perfect energy allocation.
Coaches Only
Three essential concepts work together to form a tripod of support for solid swimming. While they seem intuitive to lifelong swimmers, it's important to explain, demonstrate, and hammer them home...
Coaches Only / Technique and Training
Swimmers come in many different flavors. There are sprinters, distance people, stroke specialists, triathletes, and even a few folks who seem to be able to do it all. Our coaching challenge is to provide the best possible training to help our athletes excel in their chosen specialty.
Coaches Only
In an earlier article, we discussed what swimmers want from their coach. Here we'll discuss some additional tips on how to provide a personal touch to make the athletes on your team feel that you're investing effort to help them achieve their individual goals.
Coaches Only / Technique and Training
Here's a six-week taper plan with the 2017 U.S. Masters Swimming Summer National Championship approaching soon.

The USMS website contains articles about sports medicine, health, and nutrition. This information is not intended to be a substitute for professional or medical advice on personal health matters. For personal medical advice, or if you are concerned about a medical condition or injury, see your healthcare provider for evaluation and care. The USMS website also contains articles about swim training and technique, including drills and workouts. All swimmers should be evaluated by a healthcare professional prior to beginning swim training. In addition, consult with a trained coach when introducing new technique or drills to your swim training program.