U.S. Masters Swimming Articles & Videos
Presented by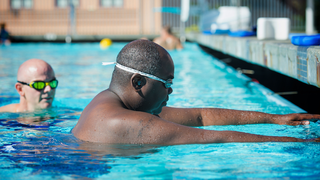 Press Releases
Sarasota, Fla., March 25, 2016—April is Adult Learn-to-Swim month. According to the CDC, about 10 people drown every day in the United States—the majority of them adults or young adults. The...
Press Releases
Cincinnati, Ohio and Sarasota, Fla., March 21, 2016—INFINIT Nutrition and U.S. Masters Swimming announce a unique partnership that includes the creation of a custom line of sports drinks formulated specifically to meet the needs of Masters swimmers.  
Press Releases
Sarasota, Fla., March 15, 2016—The USMS Board of Directors has selected Dawson Hughes to be Masters Swimming's new chief executive officer. Hughes joins USMS from the Orange Bowl Committee,...
Whats New?
The final USMS Top 10 has been posted. This completes all of the USMS Top 10 courses for 2015. All-Americans and pool All-Stars have been named. Please see the Top 10 Booklets or the USMS Top 10 search page to view the listings and navigate the links to the All-Americans and All-Stars pages.
Coaching
We each have our favorite workouts to do, and we each have sets we'd prefer to avoid. As a distance swimmer, I love to do timed 1650s all day long, but I dread the very idea of sprinting a single...
Coaching
To combat these difficulties our coaching staff decided to type and print each workout, place it in a plastic Ziploc bag, and put a copy at the end of each lane for every practice. We still give...

The USMS website contains articles about sports medicine, health, and nutrition. This information is not intended to be a substitute for professional or medical advice on personal health matters. For personal medical advice, or if you are concerned about a medical condition or injury, see your healthcare provider for evaluation and care. The USMS website also contains articles about swim training and technique, including drills and workouts. All swimmers should be evaluated by a healthcare professional prior to beginning swim training. In addition, consult with a trained coach when introducing new technique or drills to your swim training program.