U.S. Masters Swimming Articles & Videos
Presented by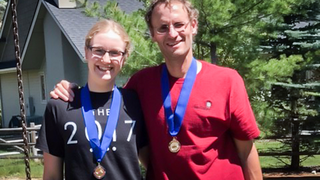 Events / Open Water
Abbey Erwin edged out her father, Jeff Erwin, to win the 2-Mile Cable Open Water title in Oregon
Coaches Only
In an earlier article, we discussed what swimmers want from their coach. Here we'll discuss some additional tips on how to provide a personal touch to make the athletes on your team feel that you're investing effort to help them achieve their individual goals.
Events
Please join us on July 1 to celebrate FINA World Aquatics Day, an annual event dedicated to promoting swimming as a basic life skill and all aquatic sports as fun and healthy ways to stay active.
Health and Nutrition / Technique and Training
Eating during a taper means making slight changes, so if you're thinking of doing anything drastic, don't. Leave any radical changes for the beginning of the training season, not at the end or...
Coaches Only / Technique and Training
Here's a six-week taper plan with the 2017 U.S. Masters Swimming Summer National Championship approaching soon.
Adult Learn-to-Swim / Human Interest
With three children and three grandchildren who are or were competitive swimmers, my father, 74, has spent a good part of the past 40 years going to swim lessons, practices, meets, and water polo matches. But, by his own description, he floats "like a dead body."
Coaches Only / Triathlon
Triathletes and fitness swimmers represent a large potential market for swim coaching services, so it's in our best interest to have them join and remain with our workout group.

The USMS website contains articles about sports medicine, health, and nutrition. This information is not intended to be a substitute for professional or medical advice on personal health matters. For personal medical advice, or if you are concerned about a medical condition or injury, see your healthcare provider for evaluation and care. The USMS website also contains articles about swim training and technique, including drills and workouts. All swimmers should be evaluated by a healthcare professional prior to beginning swim training. In addition, consult with a trained coach when introducing new technique or drills to your swim training program.