U.S. Masters Swimming Articles & Videos
Presented by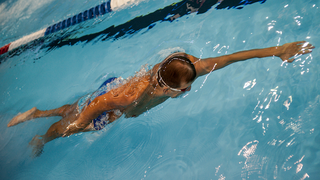 Coaching / Drylands / Stroke Technique
The catch position and phase of each stroke is paramount to a swimmer's success. Swimmers who improve their catch will automatically increase their power and endurance without any metabolic training. Once a great catch has been established, it can cover up a lot of other technical flaws in the stroke. 
Drylands
Some athletes work for a long time and exert a lot of energy but realize only small increases in strength. Often, though, they can see significant increases in strength by implementing a few simple...
Coaching / Drylands
"Oh, my aching shoulder! Coach, what can I do for this?" How many of us coaches hear this on a daily basis? Adult swimmers are so crunched for time that most of them can't properly take care of...
Drylands / Training
Most people, especially inactive ones, get weaker every year of their lives, sometimes starting as early as their 20s. But with an effective strength-training program, one can, at the very least,...
Drylands / Training
Almost every objection I've heard about strength training, especially from swimmers, is about the fear of bulking up, but you can gain strength without gaining unnecessary size. I've never heard...
Drylands / Training
You may do stretches from time to time and get into a certain position and realize, "Wow I'm pretty tight." This probably isn't a new phenomenon for many of you, but have you ever stopped to think why you're "tight" and if it's really a bad thing?
Drylands / Training
Swimmers are seldom models of perfect posture. Countless hours spent swimming back and forth encourages slumped shoulders. In addition, swimmers are often believed to be clumsier than land-based athletes. But even for these seemingly systemic problems, there is a simple solution: Strength training.

The USMS website contains articles about sports medicine, health, and nutrition. This information is not intended to be a substitute for professional or medical advice on personal health matters. For personal medical advice, or if you are concerned about a medical condition or injury, see your healthcare provider for evaluation and care. The USMS website also contains articles about swim training and technique, including drills and workouts. All swimmers should be evaluated by a healthcare professional prior to beginning swim training. In addition, consult with a trained coach when introducing new technique or drills to your swim training program.