U.S. Masters Swimming Articles & Videos
Presented by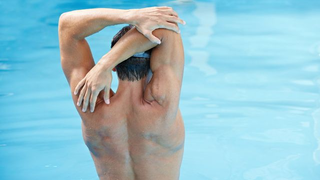 Drylands / Training
You may do stretches from time to time and get into a certain position and realize, "Wow I'm pretty tight." This probably isn't a new phenomenon for many of you, but have you ever stopped to think why you're "tight" and if it's really a bad thing?
Drylands / Training
Swimmers are seldom models of perfect posture. Countless hours spent swimming back and forth encourages slumped shoulders. In addition, swimmers are often believed to be clumsier than land-based athletes. But even for these seemingly systemic problems, there is a simple solution: Strength training.
Drylands / Training
Athletes who compete in endurance sports, such as swimming or triathlons, put a great deal of emphasis on aerobic or cardiovascular fitness. Often, the majority of workouts are geared towards...
Drylands / Training
As a Masters swimmer your time for training is often limited. So it's legitimate to ask, "Why is it important to find time to strength train?" There are plenty of reasons why strength training has value in your limited training program, but let's focus on the three most important:
Drylands
Warming up for your event on deck is advantageous when the pool is crowded. I'll always take a quality movement or strength session on land over a sloppy and frustrating swim in a crowded warm-up pool.
Advertorial / Drylands / Fitness
Swimmers know: It's important to be in the water at least once a day to keep your feel for the water and your stroke. Outside of the water, it's equally important to get in some dynamic dryland workouts for strength and flexibility.
Coaching / Drylands / Sports Medicine / Training
Movement and muscle imbalances cause the majority of chronic injuries, and swimming is an imbalanced sport.

The USMS website contains articles about sports medicine, health, and nutrition. This information is not intended to be a substitute for professional or medical advice on personal health matters. For personal medical advice, or if you are concerned about a medical condition or injury, see your healthcare provider for evaluation and care. The USMS website also contains articles about swim training and technique, including drills and workouts. All swimmers should be evaluated by a healthcare professional prior to beginning swim training. In addition, consult with a trained coach when introducing new technique or drills to your swim training program.