U.S. Masters Swimming Articles & Videos
Presented by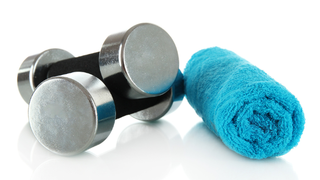 Drylands / Training
As a Masters swimmer your time for training is often limited. So it's legitimate to ask, "Why is it important to find time to strength train?" There are plenty of reasons why strength training has value in your limited training program, but let's focus on the three most important:
Drylands
Warming up for your event on deck is advantageous when the pool is crowded. I'll always take a quality movement or strength session on land over a sloppy and frustrating swim in a crowded warm-up pool.
Advertorial / Drylands / Fitness
Swimmers know: It's important to be in the water at least once a day to keep your feel for the water and your stroke. Outside of the water, it's equally important to get in some dynamic dryland workouts for strength and flexibility.
Coaching / Drylands / Sports Medicine / Training
Movement and muscle imbalances cause the majority of chronic injuries, and swimming is an imbalanced sport.
Drylands / Fitness / Training
Many swimmers seem to be hesitant when it comes to realizing the need to get stronger. This uncertainty is slowly dying off, but there are still many misconceptions of what it really means to get stronger.
Drylands / Fitness / Stroke Technique / Training
Masters swimmers are interesting creatures. These typically early risers hit the pool before many sane people would consider waking up, let alone exercising. Masters swimmers commonly come in three forms:
Drylands / Training
Looking for an edge over your competition when poised on the starting block and the gun goes off? Are your flip turns and push-offs lackluster and weak instead of razor sharp and explosive?...

The USMS website contains articles about sports medicine, health, and nutrition. This information is not intended to be a substitute for professional or medical advice on personal health matters. For personal medical advice, or if you are concerned about a medical condition or injury, see your healthcare provider for evaluation and care. The USMS website also contains articles about swim training and technique, including drills and workouts. All swimmers should be evaluated by a healthcare professional prior to beginning swim training. In addition, consult with a trained coach when introducing new technique or drills to your swim training program.