U.S. Masters Swimming Articles & Videos
Presented by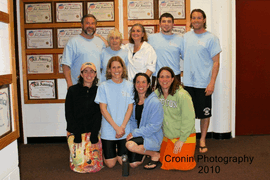 Human Interest / Technique and Training
The Cronins are a swimming family and at this year's New England Masters Championship at Harvard, three generations competed in the family team, Technique and Training, better known as TNT. The...
Human Interest / Technique and Training
"But I'm not a runner." I said. "It doesn't matter. You can walk part, run part. That's what we did last year," said the woman next to me as we toweled off in the locker room after swim...
Fitness / Technique and Training
After paying dues, and receiving that nation-wide passport known as the USMS card, immigrants to the People's Republic of Swimming must realize that they have entered a new culture, with its own...
Health and Nutrition / Technique and Training
In 2004 the Food And Nutrition Board of the Institute of Medicine released new Dietary Reference Intakes for water, sodium and other electrolytes. The recommendations are for the average adult, who...
Technique and Training
This month's topic is "Dry Land" training. The term "Dry Land" has an interesting connotation. It differs from Cross Training as the latter refers to something we do instead of swimming for general...
Fitness / Technique and Training
Summer is here! This is the time many return to the pool, whether it be to train for Masters swimming events, open water swimming for triathlon or long distance events, or just to keep the kids company at the community pool or local beach.
Fitness / Technique and Training
Swimming is a year around sport, but only if you stay motivated year around. Have you noticed that some swimmers never seem to tire of swimming, while some swim in spurts or seasons, and others only...

The USMS website contains articles about sports medicine, health, and nutrition. This information is not intended to be a substitute for professional or medical advice on personal health matters. For personal medical advice, or if you are concerned about a medical condition or injury, see your healthcare provider for evaluation and care. The USMS website also contains articles about swim training and technique, including drills and workouts. All swimmers should be evaluated by a healthcare professional prior to beginning swim training. In addition, consult with a trained coach when introducing new technique or drills to your swim training program.