U.S. Masters Swimming Articles & Videos
Presented by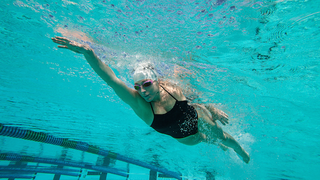 Technique and Training
The majority of us swimmers like to breathe. In freestyle, many of us breathe every stroke cycle to one side or the other. Although it's better to breathe on alternating sides, given that we do like to breathe, it's easy to fall into a pattern of breathing more often to one side.
Technique and Training
Observers of elite swimming have noted that some of the fastest freestylers are flattening out—rotating less—specifically in the hips. This is especially true for the sprinters, who tend to drive their stroke with a flat kick, rotating only their upper bodies.
Coaches Only / Technique and Training
Ask yourself: "Am I a bad kicker?" Do you go first on swim and pull sets and last on kick sets? Do you find a reason to adjust your goggles, go to the locker room, fake an injury, or modify the...
Health and Nutrition / Technique and Training
If you train and compete long enough in any sport, you'll likely experience minor, chronic injury at some point. Injuries in a noncontact sport such as swimming are often the result of inadequacy in one of three areas: mechanics, posture, or strength.
Coaches Only / Technique and Training
Swimming on your own has its advantages and disadvantages. Some Masters swimmers have had great success by swimming on their own or with one other person from time to time. On the pro side, when...
Coaches Only / Technique and Training
The swimmers who set records in distance swimming typically split their races very evenly. In Sun Yang's 1500-meter race at the 2012 Olympics, his 50 splits varied by only a few tenths of a second throughout the race, and his front and back half times were nearly identical.
Technique and Training
Many swimmers have missed time in the water due to some type of shoulder injury, whether minor or severe. Some shoulders are too tight and others aren't strong or stable enough. Swimmers need shoulders that have:

The USMS website contains articles about sports medicine, health, and nutrition. This information is not intended to be a substitute for professional or medical advice on personal health matters. For personal medical advice, or if you are concerned about a medical condition or injury, see your healthcare provider for evaluation and care. The USMS website also contains articles about swim training and technique, including drills and workouts. All swimmers should be evaluated by a healthcare professional prior to beginning swim training. In addition, consult with a trained coach when introducing new technique or drills to your swim training program.