U.S. Masters Swimming Articles & Videos
Presented by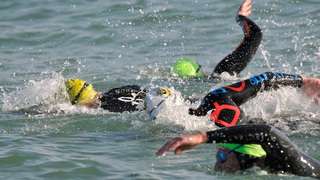 Coaching / Open Water / Training / Triathlon
Preparing your athletes for an open water swim with a surf entry is an important part of helping them get ready for the coming open water season. The set below offers some ideas for how to teach...
Drills / Stroke Technique / Training
Want to feel the difference? Kenny Brisbin, coach of the Long Beach Grunions offers tips and drills to improve your feel for the water while leveraging your paddle time.
Human Interest / Training
Swimmers who choose to swim in college, mostly at the NCAA level, will spend hours training in the pool, gym and weight room. Often, training is akin to a part-time job for student athletes. It's...
Fitness / Health and Nutrition / Sports Medicine / Training
Arthritis, an inflammatory joint condition, affects people of all ages. Osteoarthritis and rheumatoid arthritis are the two most common types. Arthritis sufferers often experience pain, stiffness,...
Drylands / Fitness / Training
Many swimmers seem to be hesitant when it comes to realizing the need to get stronger. This uncertainty is slowly dying off, but there are still many misconceptions of what it really means to get stronger.
Training
No two swim workouts are exactly the same, but any workout should include a warm-up period at the start of practice. As a younger swimmer, you could jump in, race a buddy down the pool and be ready...
Coaching / Training
How we view things, including ourselves, is the critical factor in every challenge we face: in swimming, school, work, home, everywhere. A positive attitude makes success possible, while a negative...

The USMS website contains articles about sports medicine, health, and nutrition. This information is not intended to be a substitute for professional or medical advice on personal health matters. For personal medical advice, or if you are concerned about a medical condition or injury, see your healthcare provider for evaluation and care. The USMS website also contains articles about swim training and technique, including drills and workouts. All swimmers should be evaluated by a healthcare professional prior to beginning swim training. In addition, consult with a trained coach when introducing new technique or drills to your swim training program.