U.S. Masters Swimming Articles & Videos
Presented by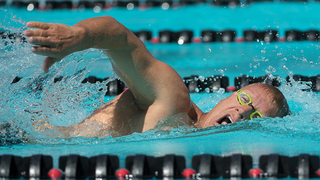 Technique and Training
As terrestrially based creatures, we need to breathe. In most sports, breathing happens naturally, without any real thought required by the athlete as to when or how much to breathe. But swimming is different, and sprint freestyle is even more so.
Technique and Training
When sculling, you create high- and low-pressure areas by changing the pitch and shape of your hand. Much the way an airplane wing or a propeller works, the movement of water around your hand during...
Technique and Training
Excellence is not accidental. While we might be able to perform any particular movement properly during a focused drill, it takes tons of practice to ensure that those skills become so ingrained...
Technique and Training
Although they're fluffy and delicious at breakfast, waffles don't belong in your swimming Waffling in swimming is when your hands waver (or waffle) back and forth or there's rapid pitch change and water slips off the hand. It's both a strength issue AND a drag issue.
Technique and Training
Good starts are really hard to define. To a casual observer, a good start is one that looks pretty. In reality, looking pretty is not nearly as important as the physics of the start and how that sets you up for a great race; this is swimming, not diving, so looking good is great, but being fast is better!
Technique and Training
When talking to people at the pool, I often hear the phrase, "Oh, I'm not a real swimmer." The person then proceeds to tell me that they are a triathlete or a runner, or perhaps just someone who enjoys working out in the water. And yet, there they are swimming.
Technique and Training
Learning to improve control of your breathing while swimming is a valuable skill that will enable you to power off the wall, put your head down at the flags to win a race, or not panic in open water...

The USMS website contains articles about sports medicine, health, and nutrition. This information is not intended to be a substitute for professional or medical advice on personal health matters. For personal medical advice, or if you are concerned about a medical condition or injury, see your healthcare provider for evaluation and care. The USMS website also contains articles about swim training and technique, including drills and workouts. All swimmers should be evaluated by a healthcare professional prior to beginning swim training. In addition, consult with a trained coach when introducing new technique or drills to your swim training program.