U.S. Masters Swimming Articles & Videos
Presented by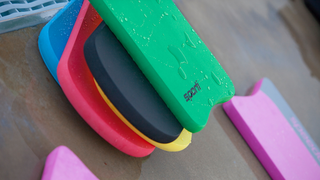 Drills / Stroke Technique / Training
We seem to spend a lot of time on kickboards. That's fine for many (and great for social sets), but kicking with a board can be uncomfortable, especially in the lower back. Besides the discomfort,...
Fitness / Training
Unlike many other sports, swimming requires participants to operate in an usual environment. Free from worries of sweating or gravity, swimmers can enjoy swimming at some level throughout their entire life. Not many other sports can offer that sort of longevity to its athletes.
Training
You listened to your coach. You did the yards. You did the dryland training, and you followed the proper nutrition plan. You made it through the taper. What happened on race day? Not what you expected.
Training
Swimming is a funny sport. Sometimes, when you want to go faster and try harder, you end up going slower. But when you loosen up your body and fully relax, there's more speed to be found.
Training
What makes some people winners time after time, while others seem to fall short just as often, or at best, get lucky once in a while? In the recipe for success, a properly set goal is one key...
Coaching / Training
We all know someone (maybe you are one yourself) who is a great multitasker. You know—the type of person who can concentrate on multiple things at the same time and seem to do all of them pretty...
Coaching / Training / USMS Promotional
In March 2013 I attended the USMS/ASCA Level 3 coaching certification course at the Rose Bowl Aquatic Center. I had attended Levels 1 and 2 in 2012, and I found that Level 3 unified all of the...

The USMS website contains articles about sports medicine, health, and nutrition. This information is not intended to be a substitute for professional or medical advice on personal health matters. For personal medical advice, or if you are concerned about a medical condition or injury, see your healthcare provider for evaluation and care. The USMS website also contains articles about swim training and technique, including drills and workouts. All swimmers should be evaluated by a healthcare professional prior to beginning swim training. In addition, consult with a trained coach when introducing new technique or drills to your swim training program.