U.S. Masters Swimming Articles & Videos
Presented by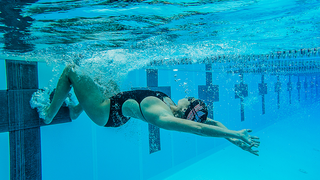 Technique and Training
If you spent a lot of time in a pool as a kid, you might have done flips or somersaults while playing around. You might have been taught to twist yourself or use your arms to help you do a flip turn...
Coaches Only / Technique and Training
Swimmers come in many different flavors. There are sprinters, distance people, stroke specialists, triathletes, and even a few folks who seem to be able to do it all. Our coaching challenge is to provide the best possible training to help our athletes excel in their chosen specialty.
Technique and Training
Here are a few tips for how you can work around difficult situations for a great meet warm-up.
Technique and Training
You might think of your coach as a cruel taskmaster, driven by delight in seeing swimmers suffer. Yet, although your coach might break into a smile when you complain about being tired, the reality is...
Health and Nutrition / Technique and Training
Eating during a taper means making slight changes, so if you're thinking of doing anything drastic, don't. Leave any radical changes for the beginning of the training season, not at the end or...
Coaches Only / Technique and Training
Here's a six-week taper plan with the 2017 U.S. Masters Swimming Summer National Championship approaching soon.
Technique and Training
Most of us think a lot about hand position in all our strokes, which is only natural. We feel the water with our hands, and they're very sensitive to pressure on the water and where the water "slips" off.

The USMS website contains articles about sports medicine, health, and nutrition. This information is not intended to be a substitute for professional or medical advice on personal health matters. For personal medical advice, or if you are concerned about a medical condition or injury, see your healthcare provider for evaluation and care. The USMS website also contains articles about swim training and technique, including drills and workouts. All swimmers should be evaluated by a healthcare professional prior to beginning swim training. In addition, consult with a trained coach when introducing new technique or drills to your swim training program.