U.S. Masters Swimming Articles & Videos
Presented by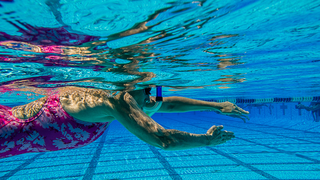 Coaches Only / Stroke Technique / Technique and Training
Stroke drills are a fundamental part of a coach's toolkit. Proper drill execution fine tunes the senses, skills, and strengths that swimmers need to maximize our aquatic performance. A well-designed drill will:
Coaches Only / Technique and Training
Performance improvement comes when you continually add challenges as you increase your fitness and expertise. This process of escalation is called progressive adaptation. Once your mind and body...
Technique and Training
Being a clock watcher in your office is probably a sign that you're not loving your job. But in the pool, learning to use the pace clock is an important part of becoming a better swimmer. Here are five specific benefits you'll earn:
Coaches Only / Technique and Training
You've thought about it for a long time, and after much deliberation, you've decided to attend your first U.S. Masters Swimming National Championship. That's great, but if you want to have a...
Drylands / Technique and Training
We make a firm commitment to our swim practices and dryland exercise, and we work hard to improve ourselves during those sessions. But if we're not careful, our other daily activities (or lack...
Drylands / Technique and Training
Regardless of your fitness level, as you age you're fighting a battle against muscle atrophy and a decrease in power. For many, these changes can seem to occur suddenly. Sports physiologist Amy...
Sports Medicine / Technique and Training
If you train and compete long enough in any sport, you'll likely experience minor, chronic injury at some point. Injuries in a noncontact sport such as swimming are often the result of inadequacy in one of three areas: mechanics, posture, or strength.

The USMS website contains articles about sports medicine, health, and nutrition. This information is not intended to be a substitute for professional or medical advice on personal health matters. For personal medical advice, or if you are concerned about a medical condition or injury, see your healthcare provider for evaluation and care. The USMS website also contains articles about swim training and technique, including drills and workouts. All swimmers should be evaluated by a healthcare professional prior to beginning swim training. In addition, consult with a trained coach when introducing new technique or drills to your swim training program.