U.S. Masters Swimming Articles & Videos
Presented by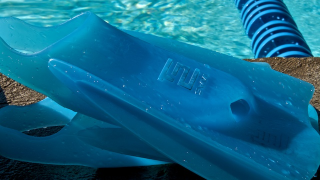 Coaching / Training
When I was a kid, I was part of a group of swimmers who were poor kickers. (OK, we were terrible, actually.) Our speed came from muscling through sets using just our upper bodies. We avoided kick...
Coaching / Training / Triathlon
In 2009 my boys were swimming with Fort Worth Area Swim Team and I was logging a lot of bleacher time, as any swim parent does. I watched the Masters group with fear and envy thinking that it was...
Advertorial / Stroke Technique / Training
As a swimmer with 10 years of experience on the USA Swimming National Team, I think one of the toughest things about the sport is maintaining proper technique. Whether you are a veteran of the pool...
Coaching / Drills / Open Water / Stroke Technique / Training / Triathlon
A two-beat kick in freestyle is an essential tool for stroke improvement, endurance swimming, open water swims (hello triathletes!) and all-around efficiency. Stroke timing, "downhill" momentum, and energy optimization are targeted in the two-beat kick.
Coaching / Drills / Open Water / Training / Triathlon
You can spot them in your parking lot: those cars with the bike racks on top, sometimes with the bikes still in them. Along with the racks come the M-dot or oval stickers announcing the completion of...
Fitness / Stroke Technique / Training
U.S. Masters Coach Stu Kahn from Davis Aquatic Masters describes the differences between the propeller freestyle stroke and the paddle freestyle stroke, as featured in the May/June issue of SWIMMER Magazine.
Coaching / Drylands / Sports Medicine / Training
Movement and muscle imbalances cause the majority of chronic injuries, and swimming is an imbalanced sport.

The USMS website contains articles about sports medicine, health, and nutrition. This information is not intended to be a substitute for professional or medical advice on personal health matters. For personal medical advice, or if you are concerned about a medical condition or injury, see your healthcare provider for evaluation and care. The USMS website also contains articles about swim training and technique, including drills and workouts. All swimmers should be evaluated by a healthcare professional prior to beginning swim training. In addition, consult with a trained coach when introducing new technique or drills to your swim training program.