U.S. Masters Swimming Articles & Videos
Presented by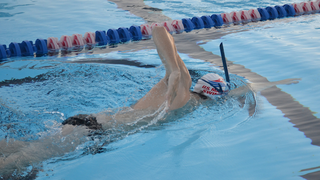 Stroke Technique / Training / Triathlon
Before you begin incorporating training equipment into your workout sets, it's important to understand that such tools should be used to correct technique, not swim faster in training sets....
Training
As a kid you may have heard, "don't take such a big bite" during mealtime. And we've all heard the analogy of eating the elephant "one bite at a time." The same philosophy holds true for...
Training
Butterflies in your stomach, sweaty palms, racing heartbeat, and dry mouth—these are the calling cards of "nerves" that all competitors have probably felt before a race. They're not pleasant, but the key is to use those jitters to your advantage; don't let them overwhelm you. 
Advertorial / Stroke Technique / Training
When most people think of a monofin, they probably visualize a mermaid gracefully undulating through a fictional underwater paradise. Not just the stuff of fairytales, this large, single-blade fin can be found on pool decks around the country and has contributed to many Olympic gold medals.
Human Interest / Training
Oh, it's the most stressful time of the year, isn't it? With to-do lists as long as our swimmers' arms, we dash through the snow in our 300-horse-powered SUVs, scurrying to and fro in that...
Advertorial / Training
Have you ever wished you could trade your lungs for gills, so that you could swim freely for as long as you wanted without having to come up for air? Well, you can come close, thanks to one piece of training equipment: the snorkel.
Drylands / Training
As a Masters swimmer your time for training is often limited. So it's legitimate to ask, "Why is it important to find time to strength train?" There are plenty of reasons why strength training has value in your limited training program, but let's focus on the three most important:

The USMS website contains articles about sports medicine, health, and nutrition. This information is not intended to be a substitute for professional or medical advice on personal health matters. For personal medical advice, or if you are concerned about a medical condition or injury, see your healthcare provider for evaluation and care. The USMS website also contains articles about swim training and technique, including drills and workouts. All swimmers should be evaluated by a healthcare professional prior to beginning swim training. In addition, consult with a trained coach when introducing new technique or drills to your swim training program.