U.S. Masters Swimming Articles & Videos
Presented by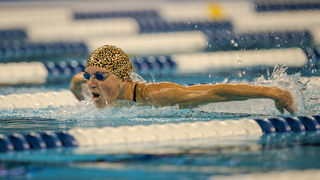 Coaching / Drills / Stroke Technique
Butterfly is often seen as one of the more difficult strokes to master. Yet, done properly, it is rhythmical and beautiful and the good flyers make it look effortless. They've learned how to...
Coaching / Drills
One of the biggest problems many swimmers have is an asymmetrical kick. It shows up in butterfly, backstroke and freestyle on the starts and streamlines, as well as in both freestyle and backstroke...
Coaching / Drills / Training
Want to build a little team camaraderie and teach your swimmers about pacing and clock awareness? Here is a set that could help you achieve these objectives. The idea for the main set comes from...
Coaching / Drills / Stroke Technique
Triathletes offer an interesting combination of challenges for masters swim coaches. We must always coach the individual in front of us, but, as a group, triathletes share some common...
Coaching / Drills / Starts and Turns / Stroke Technique
For competitive swimmers, one of the biggest areas of opportunity for improvement is in streamlines, transitions and breakouts. An effective way to coach this technique is to break it down into three...
Coaching / Drills / Training
We can probably all agree that kicking makes a huge difference in swimming across all distances and abilities. One of the things we have struggled with in our program is explaining the necessity of...
Coaching / Drills
January is fast approaching and the number of swimmers at practice may grow as the triathletes reemerge from their recovery stage and swimmers with New Year's resolutions and maybe a few regulars make their way back to the pool. What's a coach to do? ... DRILL!

The USMS website contains articles about sports medicine, health, and nutrition. This information is not intended to be a substitute for professional or medical advice on personal health matters. For personal medical advice, or if you are concerned about a medical condition or injury, see your healthcare provider for evaluation and care. The USMS website also contains articles about swim training and technique, including drills and workouts. All swimmers should be evaluated by a healthcare professional prior to beginning swim training. In addition, consult with a trained coach when introducing new technique or drills to your swim training program.