U.S. Masters Swimming Articles & Videos
Presented by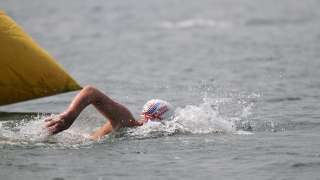 Coaching / Drills / Open Water / Training / Triathlon
You can spot them in your parking lot: those cars with the bike racks on top, sometimes with the bikes still in them. Along with the racks come the M-dot or oval stickers announcing the completion of...
Drills / Stroke Technique / Training
Want to feel the difference? Kenny Brisbin, coach of the Long Beach Grunions offers tips and drills to improve your feel for the water while leveraging your paddle time.
Drills / Sports Medicine / Training
What is diaphragmatic breathing? Diaphragmatic breathing is deep breathing that engages the lungs and abdomen together and causes the belly to rise and fall with breaths. The proper position for...
Coaching / Drills / Stroke Technique
Humans are land-based, vertical mammals. So asking a swimmer to get wet, go horizontal, upside down, and then swim backwards? Well heck, no wonder backstroke sets can set some swimmers groaning.
Drills / Open Water / Stroke Technique / Training / Triathlon
It's undeniable: many triathletes consider themselves cyclists or runners and regard the first part of the race as something to be tolerated, or worse, feared. Swimming in a frenzied open-water pack...
Coaching / Drills / Open Water / Training
Open water training creates some unique challenges for Masters coaches. Some have the luxury of open water venues for practice but for most coaches, the pool is still the rule. However, to serve our...
Coaching / Drills
Here's a drill that has multiple benefits for backstrokers. It will help with timing of your arm strokes, getting you to rotate from your core, and keeping your kick steady. And the good news is that...

The USMS website contains articles about sports medicine, health, and nutrition. This information is not intended to be a substitute for professional or medical advice on personal health matters. For personal medical advice, or if you are concerned about a medical condition or injury, see your healthcare provider for evaluation and care. The USMS website also contains articles about swim training and technique, including drills and workouts. All swimmers should be evaluated by a healthcare professional prior to beginning swim training. In addition, consult with a trained coach when introducing new technique or drills to your swim training program.