U.S. Masters Swimming Articles & Videos
Presented by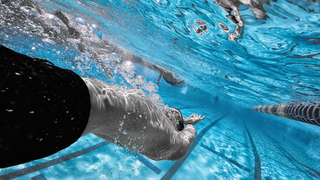 Drills / Stroke Technique
Aquatic sports are the only competitive activities where the same medium (water) provides both the platform for your propulsion and the forces that slow your progress. In other words, your arms and...
Coaching / Drills
No, you're not hitting it or pushing off of it. You're using it to teach your tactile and kinesthetic learners what a really good freestyle pull feels like.
Drills / Stroke Technique
There are three drills I recommend for freestyle and backstroke that promote learning and controlling hip action. These drills build upon each other for both strokes and work best if done in the...
Drills / Training
Despite what it might look like, synchronized swimming is far from being all pretty dancing on the surface of the water. Synchronized swimmers have unique skills that could be useful to the average...
Drills / Stroke Technique
Some people have great kicks, but when you take away the kick board and ask them to swim, their kick disappears faster than a fair weather swimmer on a cold day. So how do we get the lower half of...
Drills / Training
"My coach often has us do drills or other activities that don't involve swimming. My training time is limited. Wouldn't it be better to spend that time swimming instead?" Great question! Hold that thought while we take in a picture show…
Adult Learn-to-Swim / Drills / Training
Water is not our natural environment. Some swimmers are better at adapting to the aquatic world than others. When you don't feel comfortable, your body will never be able to realize its full potential in any environment, much less in the pool.

The USMS website contains articles about sports medicine, health, and nutrition. This information is not intended to be a substitute for professional or medical advice on personal health matters. For personal medical advice, or if you are concerned about a medical condition or injury, see your healthcare provider for evaluation and care. The USMS website also contains articles about swim training and technique, including drills and workouts. All swimmers should be evaluated by a healthcare professional prior to beginning swim training. In addition, consult with a trained coach when introducing new technique or drills to your swim training program.