U.S. Masters Swimming Articles & Videos
Presented by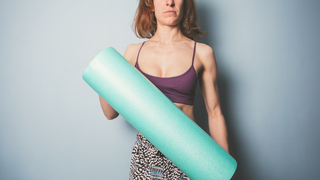 Sports Medicine
You wrap up a hard breaststroke set or 5-mile run and are later assaulted by pain and/or a burning sensation on the outside of the knee. The first impulse is to blame the knee joint. Few people...
Sports Medicine
If your mother told you to sit up straight as a child, consider yourself lucky. Her not-so-subtle reminders may have prevented you from suffering a variety of dysfunctions later in life. Here, we'll look at a few common postural issues and some exercises that can help correct them.
Sports Medicine
2005 and 2006 data released by the National Health and Nutrition Examination Survey studied American men and women 50 and older. The study concluded that that .8 million men and 4.5 million women...
Sports Medicine
If you're having shoulder soreness and you've done your due diligence—you've talked technique with your coach, you've seen a doctor to rule out chronic or acute injury—but you're still sore, have you considered the way you rest at the wall?
Health and Nutrition / Sports Medicine
Energy drinks are beverages that are marketed to provide mental or physical energy or stimulation. There are dozens of these products available, including such recognizable names as Red Bull, 5-hour...
Coaching / Drylands / Sports Medicine / Training
Movement and muscle imbalances cause the majority of chronic injuries, and swimming is an imbalanced sport.
Fitness / Health and Nutrition / Sports Medicine / Training
Arthritis, an inflammatory joint condition, affects people of all ages. Osteoarthritis and rheumatoid arthritis are the two most common types. Arthritis sufferers often experience pain, stiffness,...

The USMS website contains articles about sports medicine, health, and nutrition. This information is not intended to be a substitute for professional or medical advice on personal health matters. For personal medical advice, or if you are concerned about a medical condition or injury, see your healthcare provider for evaluation and care. The USMS website also contains articles about swim training and technique, including drills and workouts. All swimmers should be evaluated by a healthcare professional prior to beginning swim training. In addition, consult with a trained coach when introducing new technique or drills to your swim training program.