U.S. Masters Swimming Articles & Videos
Presented by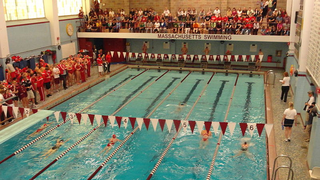 Coaching / USMS Clubs
If you are fortunate to live in a city that has a college or university, you may have the opportunity to develop a Masters program there. Our experience with Indy Aquatic Masters is one example of how USMS club teams can build relationships with local universities.
Advertorial / USMS Clubs / USMS Promotional
See how two USMS partners, Swimoutlet.com and P2Life, can help you raise money for your Masters program.
Coaching / USMS Clubs / USMS Promotional
Many swimmers, your writer included, have had an initial hesitation to join a Masters program; after all, this is a team for serious swimmers, right? Super speedy Type As who thrive on competition or weekend warriors hungry to improve their swimming technique for triathlons?  
Events / Fitness / USMS Clubs
Tom Taylor is a part time resident of Sun City, Arizona, but he is fully invested in his winter community and his swim team. He proved his commitment recently by organizing a swim relay in...
USMS Clubs / USMS Promotional
The USMS Club Development program wants to help your club. One of the key factors in our USMS Strategic Plan is membership growth and retention of members. USMS has funded a pilot program for the...
USMS Clubs
Join U.S. Masters Swimming Editor-in-Chief Laura Hamel as she travels through the San Francisco Bay Area to visit Masters swimming clubs. Several members explain what it means to them to be a part of Masters Swimming.
USMS Clubs
U.S. Masters Swimming Coach Stu Kahn, who heads Davis Aquatic Masters, discusses his experiences with the team. His wife and Assistant Coach, Mary Kahn, tells us a little bit about what DAM has to offer.

The USMS website contains articles about sports medicine, health, and nutrition. This information is not intended to be a substitute for professional or medical advice on personal health matters. For personal medical advice, or if you are concerned about a medical condition or injury, see your healthcare provider for evaluation and care. The USMS website also contains articles about swim training and technique, including drills and workouts. All swimmers should be evaluated by a healthcare professional prior to beginning swim training. In addition, consult with a trained coach when introducing new technique or drills to your swim training program.