U.S. Masters Swimming Articles & Videos
Presented by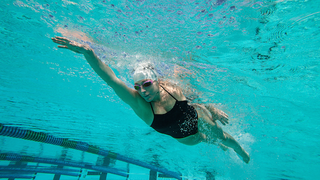 Drills / Stroke Technique
There are three drills I recommend for freestyle and backstroke that promote learning and controlling hip action. These drills build upon each other for both strokes and work best if done in the...
Stroke Technique
As featured in the September-October 2014 issue of SWIMMER magazine, Cokie Lepinski of SwymNut Masters shows us how to engage our hips when swimming backstroke and freestyle.
Stroke Technique
Davis Aquatic Masters Coach Stu Kahn shows us how you can tweak your technique by using your own perspective, as well as correct use of propulsive pressure during the back end of your stroke. SWIMMER Magazine http://www.usmsswimmer.com/
Stroke Technique / Triathlon
Swimming faster must necessarily begin with swimming smarter. As with most endeavors—physical or otherwise—there is a limit to progress that can be made without continual improvement in...
Coaching / Stroke Technique
For SWIMMER Magazine, U.S. Masters Swimming Coach Cokie Lepinski shows us how to pump up our Paddle Power and transform our hands and forearms into the ultimate propulsive tool.
Drills / Stroke Technique
Some people have great kicks, but when you take away the kick board and ask them to swim, their kick disappears faster than a fair weather swimmer on a cold day. So how do we get the lower half of...
Coaching / Drills / Stroke Technique
Backstroke is a mystery to so many swimmers, even ones who swim it well. But you can take away all the pain, confusion, and discomfort with one simple sentence. Backstroke, just like the other three strokes, requires breathing in the rhythm of the head in and out of the water.

The USMS website contains articles about sports medicine, health, and nutrition. This information is not intended to be a substitute for professional or medical advice on personal health matters. For personal medical advice, or if you are concerned about a medical condition or injury, see your healthcare provider for evaluation and care. The USMS website also contains articles about swim training and technique, including drills and workouts. All swimmers should be evaluated by a healthcare professional prior to beginning swim training. In addition, consult with a trained coach when introducing new technique or drills to your swim training program.