U.S. Masters Swimming Articles & Videos
Presented by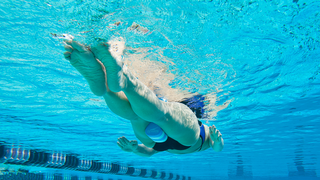 Coaching / Stroke Technique
When sculling, you create high- and low-pressure areas by changing the pitch and shape of your hand. Much the way an airplane wing or a propeller works, the movement of water around your hand during...
Stroke Technique
Excellence is not accidental. While we might be able to perform any particular movement properly during a focused drill, it takes tons of practice to ensure that those skills become so ingrained...
Stroke Technique
Although they're fluffy and delicious at breakfast, waffles don't belong in your swimming Waffling in swimming is when your hands waver (or waffle) back and forth or there's rapid pitch change and water slips off the hand. It's both a strength issue AND a drag issue.
Starts and Turns / Stroke Technique
Good starts are really hard to define. To a casual observer, a good start is one that looks pretty. In reality, looking pretty is not nearly as important as the physics of the start and how that sets you up for a great race; this is swimming, not diving, so looking good is great, but being fast is better!
Coaching / Stroke Technique / Training
When U.S. Masters Swimming began in 1970, Mark Spitz had only earned his first two Olympic gold medals, and Michael Phelps was 15 years away from even being born. Today, the Spitz poster I had in my...
Starts and Turns / Stroke Technique
We've all seen it—the slow backstroke start. There are a few common varieties and some are adaptations based on ability, a limited range of motion, or some other factor. Regardless of why they're happening, slow starts typically come in a variety of flavors.
Stroke Technique
The lateral upper-body line is an imaginary line running from elbow to elbow through the collarbones or clavicles when the arms are extended straight out to the sides. If it helps, think of making a...

The USMS website contains articles about sports medicine, health, and nutrition. This information is not intended to be a substitute for professional or medical advice on personal health matters. For personal medical advice, or if you are concerned about a medical condition or injury, see your healthcare provider for evaluation and care. The USMS website also contains articles about swim training and technique, including drills and workouts. All swimmers should be evaluated by a healthcare professional prior to beginning swim training. In addition, consult with a trained coach when introducing new technique or drills to your swim training program.