U.S. Masters Swimming Articles & Videos
Presented by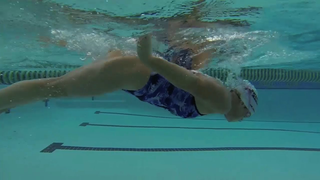 Stroke Technique
Butterfly is all about rhythm and good technique. Many swimmers struggle with developing and timing a strong second kick, which is important for a faster and more efficient butterfly. This drill helps with developing that crucial second kick.
Advertorial / Stroke Technique / Training
As a swimmer with 10 years of experience on the USA Swimming National Team, I think one of the toughest things about the sport is maintaining proper technique. Whether you are a veteran of the pool...
Coaching / Drills / Open Water / Stroke Technique / Training / Triathlon
A two-beat kick in freestyle is an essential tool for stroke improvement, endurance swimming, open water swims (hello triathletes!) and all-around efficiency. Stroke timing, "downhill" momentum, and energy optimization are targeted in the two-beat kick.
Fitness / Stroke Technique / Training
U.S. Masters Coach Stu Kahn from Davis Aquatic Masters describes the differences between the propeller freestyle stroke and the paddle freestyle stroke, as featured in the May/June issue of SWIMMER Magazine.
Drills / Stroke Technique / Training
Want to feel the difference? Kenny Brisbin, coach of the Long Beach Grunions offers tips and drills to improve your feel for the water while leveraging your paddle time.
Coaching / Stroke Technique
Standing on deck coaching a Masters workout, I often have mixed feelings when I see swimmers reaching for their pulling gear. All too frequently, hand paddles and pull buoys become crutches, an...
Coaching / Drills / Stroke Technique
Humans are land-based, vertical mammals. So asking a swimmer to get wet, go horizontal, upside down, and then swim backwards? Well heck, no wonder backstroke sets can set some swimmers groaning.

The USMS website contains articles about sports medicine, health, and nutrition. This information is not intended to be a substitute for professional or medical advice on personal health matters. For personal medical advice, or if you are concerned about a medical condition or injury, see your healthcare provider for evaluation and care. The USMS website also contains articles about swim training and technique, including drills and workouts. All swimmers should be evaluated by a healthcare professional prior to beginning swim training. In addition, consult with a trained coach when introducing new technique or drills to your swim training program.